'Deadpool' animated series with Donald Glover as writer and showrunner is heading to FXX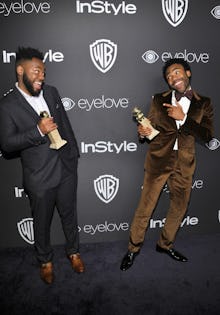 Deadpool fans awaiting the release of Deadpool 2 in 2018 now have another project to obsess over. FXX has ordered a Deadpool animated series from Marvel Television and FX Productions. And no, this is not a drill. 
The order is for a full-fledged, 10-episode series which should premiere sometime in 2018. The series, while animated, will be geared towards adults, and have two well-reputed creators at its helm — Donald and Stephen Glover.
Donald Glover, creator of the award-winning show Atlanta, and his brother Stephen, writer on said show, will be executive producers, showrunners and writers of the currently untitled animated series. Based on Atlanta's unique awesomeness, one can only assume this new animated endeavor will take the Marvel anti-hero to a whole new level. 
The powers that put this deal together also seem incredibly excited about the creators on deck for this series. 
"Donald Glover is an incredibly gifted and versatile artist who'll bring the untitled Marvel's Deadpool series to life with the same intense, singular vision as his breakout hit Atlanta," Nick Grad, president of original programing at FX Networks and FX productions, said in a press release. "With the success of Legion, we're looking forward to again partnering with Marvel Television to create a series that is bold, striking and entirely original."
While he has yet to write for it, Donald's not altogether unconnected to the Marvel Cinematic Universe. He will make an appearance in Spiderman: Homecoming in a currently unknown role. 
Mic has ongoing Marvel comics coverage. Check out our Marvel comics hub here.