Taylor Swift will reportedly release a new album in 2017 — here's everything we know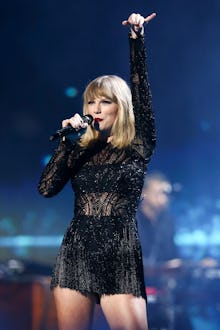 Taylor Swift has stayed under the radar so far in 2017. One of the reasons she's been keeping a relatively low profile is because she's working on her next album, US Weekly reported. The report states that she's spent the past couple of months recording away from major cities to focus primarily on her music. Swift's rumored project would be the follow-up to the singer's fifth studio album, 1989. Here is everything else we know about her next record.
Release date
Swift is looking to release a new album in the fall, Us Weekly reported. There is no official release date yet. 
Another rumor is that Swift may be timing her release to coincide with many of her recent business moves surrounding her music and other products related to her brand. In March, Swift reportedly filed a patent for a website called Swifties, which is believed to be a streaming website. 
Album's content 
Swift became the subject of gossip blogs and columns following her break-up with producer Calvin Harris in June, and her split with actor Tom Hiddleston in September. The report states that Swift is expected to pour her recent relationship experiences into her music, as she's infamously done on her previous records. 
Swift is also expected to continue in the lane of pop music for her new record. This year, her sensual pop collaboration with ZAYN, "I Don't Wanna Live Forever," was a success, peaking at No. 2 on the Billboard Hot 100. 1989, which marked her official pivot from country to a more pop-centered style, was also a huge success, winning album of the year at the 58th Grammy Awards.
Mic has ongoing Taylor Swift coverage. Please follow our main Taylor Swift hub here.