iPhone 8: Feast your eyes on these gorgeous new concept images of Apple's 2017 device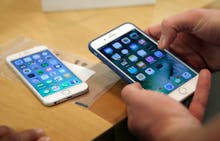 If you want to see what the iPhone 8 may look like, there is no shortage of concept images and renderings of the premium smartphone. Now, adding to the list of concepts is a mockup from Onleaks based on CAD drawings, as spotted by 9to5Mac.
The latest concept shows an edge-to-edge OLED display — rumors have hinted that the premium 5.8-inch handset will have an OLED edge-to-edge display and will be bezel-less. It also features a stainless steel edge and an all-glass back with a vertical dual-camera design. Previously, a leak from KK Sneak Leaks showcased a clear camera case with a vertical camera cutout, and an iPhone mockup created by YouTube channel Concepts Creator features the same.
One noticeable difference is the thickness of the device. The iPhone 7 and 7 Plus are 7.1 mm and 7.3 mm, respectively. The iPhone 7S models should be the same. In the mockup, the iPhone 8 is 7.7 mm, making it thicker than other iPhone 7 models.
As for other specs, some reports indicate the iPhone 8 will have a fingerprint sensor within the display, so there will be no home button. Reports also suggest there may be wireless charging; a front-facing dual-lens camera; a new, smaller A11 chip; extended battery life; improved water resistance; and a 3-D sensing system to support augmented-reality technology — or "some form of facial/gesture recognition."
The latest rendering does not outline where the fingerprint sensor will go. Apple is reportedly having problems integrating the sensor into the display, and a Twitter leak revealed a product design with the Touch ID sensor on the back of the device — much like the recently released Samsung Galaxy S8 — underneath the Apple logo.