'Mass Effect: Andomeda' Update: Want the new outfit? You have to start a brand-new game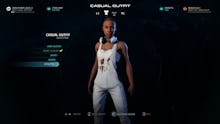 Update: A new patch, version 1.07, addresses the bug preventing in-progress games from obtaining this new outfit. 
The original story follows.
Mass Effect: Andromeda just got a big, fat update today. Patch 1.06 introduces a number of huge bug fixes — and, if you own the deluxe or super-deluxe editions, you'll also get a new casual outfit and some new Nomad skins.
Unfortunately, the new casual outfit leaves a lot to be desired: It's essentially just some workout clothes with light space flair. When you put it on Scott Ryder, he looks like a total fuccboi:
Even if you like the new athletic outfit, there's no way to claim it — or the Nomad skins — if you've already grabbed the special delivery cache from the Tempest. You'll have to start a brand-new game. 
Here's what's going on.
Mass Effect: Andromeda Update 1.06 introduces new casual outfit — but you'll probably have to start a new game
When you buy the deluxe or super-deluxe editions of Mass Effect: Andromeda, you'll get a number of special items. In order to transfer these items to your inventory, you have to grab the special delivery cache in the Pathfinder's quarters aboard the Tempest. 
However, if you've already grabbed this special delivery cache before update 1.06, you won't have the new items in your inventory once you update the game, despite having shelled out extra cash for the special edition. Yikes.
A player tweeted at Mass Effect: Andromeda producer Michael Gamble about it, and he responded that BioWare was "looking into it."
It's unclear whether or not every single player who already claimed the special delivery cache is experiencing this, but we were able to reproduce the issue on our copy of Mass Effect: Andromeda.
If this is indeed a widespread bug, it's undoubtedly frustrating for players who are already dozens of hours deep into a playthrough. Hopefully it gets addressed soon, or else players wanting some new threads will have to take some pretty drastic steps to get them. Mic has reached out to BioWare for comment and will update with any response.
May 19, 2017, 10:11 a.m.: This story has been updated.
More stories from the Multiplayer launch
Check out the latest from Multiplayer, including a feature about the need for more diversity in game development, an essay about how Efi Oladele was a missed opportunity for Overwatch, a nostalgia-fueled essay about how World of Warcraft lost its heart when the game improved, a plea for better character customization options for black characters, a takedown of the beloved original 151 Pokémon and an analysis of the gender inequality in Uniqlo's new Nintendo T-shirt line.