Donald Glover is going to be everywhere in 2018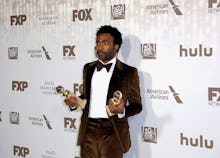 For fans of Donald Glover, whose suave, low-key stardom and internet boyfriend appeal makes him feel like the human embodiment of Tumblr, brace yourselves: 2018 is going to be his year. 
Even the most casual pop culture consumers are probably familiar with some of his upcoming projects; it shouldn't be news to anyone that he'll be playing a young Lando Calrissian in the upcoming Han Solo spinoff film. But to see the body of Glover's work over the next few years — especially in 2018 — gives added insight to just how busy this dude is gonna be. Really, the only person in Hollywood who may come close is Ryan Seacrest, but that's old news (and he might as well be a cyborg). 
To give an idea of Glover's ambitious workload, here's a running list of Glover projects, from Spider-Man: Homecoming to the Lion King live-action remake. 
Spider-Man: Homecoming
A previous campaign to have Glover play Peter Parker was unsuccessful, but he'll still have a role in Marvel's new Spider-Man reboot. What's interesting is: We have no idea who he's going to play. Since this iteration of Parker is so young, it seems highly unlikely he'll take on the role of one of Parker's classmates (his role in Community worked specifically because it was a community college with people as old as Chevy Chase).
Unless Marvel lets us know beforehand, all we can do is wait for the film to be released on July 7. 
Untitled Han Solo spinoff movie
Lucasfilm — which, like Marvel, is a subset of Disney — has been pretty mum about the details of the Han Solo spinoff film; it doesn't even have a title yet. But, if you couldn't tell from Glover's casting, this is a prequel that will explore Lando and Han's early days as bounty hunters. Hopefully, that will involve the Millennium Falcon, which Lando famously lost to Han in a game of sabacc. 
"This new film depicts Lando in his formative years as a scoundrel on the rise in the galaxy's underworld — years before the events involving Han, Leia and Darth Vader in The Empire Strikes Back and his rise to Rebel hero in Return of the Jedi," directors Phil Lord and Christopher Miller said, according to a press release. 
The untitled Han Solo film is slated to arrive in theaters May 25, 2018. 
FXX's untitled Deadpool animated series
The merc with a mouth is coming to the small screen for an adult animated comedy on FXX. Glover, along with his brother, Stephen, are serving as showrunners for the 10-episode first season, which will debut sometime in 2018. 
"Donald Glover is an incredibly gifted and versatile artist who'll bring the untitled Marvel's Deadpool series to life with the same intense, singular vision as his breakout hit Atlanta," FX Networks president of original programming Nick Grad said in a press release. "With the success of Legion, we're looking forward to again partnering with Marvel Television to create a series that is bold, striking and entirely original."
FX's Atlanta, season two 
Ironically, the second season of FX's surreal comedy Atlanta was already delayed until 2018 because of other commitments from Glover, the series' lead actor and showrunner. But this was announced before the Deadpool animated series and his involvement in the Lion King remake were made public, which could further shelve the second season. 
That would really suck. Atlanta came out of nowhere to be one of the best shows on television. Hurry back; we need to know more about the groundbreaking reality of invisible cars and politically charged cereal commercials. 
The Lion King live-action remake
Yes, Glover just can't wait to be king. He'll be voicing Simba in Disney's live-action remake, as announced in February. While it's worth asking if we really need Disney to remake every animated film under the sun, the new Lion King looks lit. Jon Favreau, fresh off a surprisingly great Jungle Book remake, will direct, and James Earl Jones will reprise his role as Mufasa. 
Donald Glover as Childish Gambino
Lest we forget, Glover's also made a name for himself as Childish Gambino, an artist who's evolved from a cheeky rapper to a hypnotic, falsetto-buoyed soul train. I'm referring, of course, to Glover's latest album, Awaken, My Love!, which was a striking departure in everything but name. 
What should we expect from Gambino in the future — a return to rap, or more experimental, soulful tunes? That's unclear, but new music should be on the way, eventually. In the meantime: Stay woke. 
Migos' personal PR representative
Glover really likes Migos. As in, he believes they're "the Beatles of this generation" and that "Bad and Boujee" is the best song ever made. That's some high praise, which catapulted the Atlanta-based rappers to the mainstream after Glover's acceptance speech at the Golden Globes. 
It's hard work, but he'll do it for the culture. 
Mic has more Donald Glover coverage. Check out our main Donald Glover hub here.