'Splatoon 2' Tataki Kensaki: Marie, the Squid Sisters and other characters go monochrome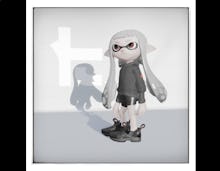 The Splatoon 2 release date is fast-approaching, and Nintendo has more to bring players — but not in the way of new weapons or additional levels. New Splatoon 2 details bring players the latest threads from Tataki Kensaki, an in-game clothing brand that's wigging us out, man.
Splatoon 2 Tataki Kensaki: New fashion puts a damper on the series bright colors
The original Splatoon is known for its bright colors and vibrant landscape. All that comes to a stop thanks to the Tataki Kensaki clothing line. Players will be able to indulge in the brand's gothic, black-and-white clothing. Here's how they'll look:
The news broke on Splatoon's official Twitter account. According to the game's Twitter (translation via Google Translate): 
"Tataki Kensaki" is their name brand designers. Mainly with monotone, simple yet innovative building design are accepted to urban youth, who is treated in numerous shops. To launch another note gear in collaboration with other brands, such as topical's popularity.
In a later tweet, the Japanese Splatoon account noted how (again, translated via Google Translate) the Tataki Kensaki clothing has attracted the attention of folks through signage in Hikaru square — A fair response to seeing something that was once so full of color turn straight-up monochrome.
Nintendo calls it Tataki Kensaki; we call it a nightmare. Let's pray that Splatoon's inklings don't spray black-and-white ink in these clothes. 
Check out more Splatoon 2 news and coverage
Read more of our Splatoon news and coverage, including our impressionsof the open beta back in March and at the Nintendo Switch event in January. Find out everything we learned about the game back in January. If you're looking for more information about the April 2017 Nintendo Direct, check out the proceedings here. Or if you want to check out general Nintendo Switch news see reports of screen defects in the Switch and what you can expect if you're trying to buy one.