'Clash of Clans' Boat Update: Latest teaser trailer leaves us stumped about next update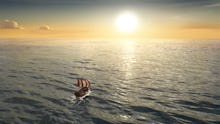 The popular mobile strategy game Clash of Clans has yet to get a major content update in 2017, but a series of teaser trailers suggests one is nigh. Unfortunately, the latest teaser doesn't tell us much.
Clash of Clans Boat Update: New teaser tell us nothing about the new update
It's a continuation of the "shipwreck" teaser we wrote about earlier this month. It's less than a minute long and doesn't have much in the way of hints about what kinds of features the next update will bring. It seems like Clash of Clans players will have to wait to find out more about the update.
The update is rumored to allow players to manage a second in-game village, which would be a significant new feature. We'll keep you posted if we find out more about the upcoming update.
More gaming news, updates, tips and tricks
Check out the latest from Mic, including our deep dive into how female Overwatch players are dealing with online harassment, an article about a fan movement advocating for more same-sex romance options in Mass Effect, a personal essay about JonTron written by a fellow Iranian-American and an article looking at cultural diversity in Overwatch.