'Vanquish' PC Port: Steam version of classic Sega shooter game officially confirmed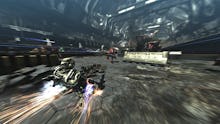 Back in April, Sega released the 2009 witch action game Bayonetta on PC. Not long after that, a tiny patch was released that seemed to tease a PC port of another modern Platinum Games classic: Vanquish. Now we know the jet-powered third-person shooter will indeed come to Steam later this month.
Vanquish coming to Steam on May 25
According to Polygon, the PC version of Vanquish will support 4K resolution and unlock the framerate. It'll have the usual smattering of visual options you find in most PC games, as well as mouse-and-keyboard support, which is new. Sega also hinted that it won't be the last PC port we see from their back catalog.
There isn't any new content in the PC version of Vanquish, but you should still check it out if you haven't played the game before. It's like Gears of War, except you can boost across the battlefield via rockets on your knees. It's silly as hell and, most importantly, an incredibly good time. It's coming to Steam on May 25 for $20.
More gaming news, updates, tips and tricks
Check out the latest from Mic, including our deep dive into how female Overwatch players are dealing with online harassment, an article about a fan movement advocating for more same-sex romance options in Mass Effect, a personal essay about JonTron written by a fellow Iranian-American and an article looking at cultural diversity in Overwatch.