#BowWowChallenge: Bow Wow is so bad at faking a glamorous life, he's now a vicious meme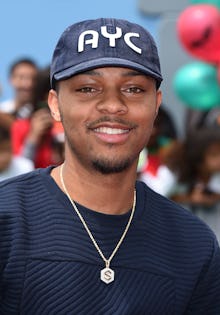 The entire reason Instagram exists is to make your life look better than it is. Everyone knows this, everyone accepts it and everyone keeps faving each other's ultra-filtered beach sunsets and food porn. It's not easy making your way in this world — so you may as well indulge your friends on social media.
But for fading celebrities interested in keeping up appearances, Instagram poses a higher degree of difficulty, and there is no cordial quid pro quo. In order to seem as successful as they were at their peak, they have to post content that reeks of the finest luxury. The pressure is on to fly private. 
Which is why rapper Bow Wow (formerly Lil', real name Shad Moss, now age 30) 'grammed this:   
The implication, of course, is that Bow Wow had chartered (or owns) a jet, the type of extravagance reserved for the richest of the rich. Unfortunately for Bow Wow, he then boarded a commercial plane and sat next to someone who apparently A) recognized him, and B) called him out for trying to flex on Instagram. Whoops.
This is hardly the first L for Bow Wow on social media. In years past, as Complex recounted, he's beefed with his mom on Twitter, misunderstood the dabbing craze and once pretended on Vine that he was about to get mobbed by a group of kids who definitely didn't recognize him. He's even been busted for the faux-millionaire Instagram hustle before — the Ferrari he drove around one Grammys weekend turned out to be a rental, and he also stole a photo of a stock trader's money pile to make it seem like he was hustling hard. 
At this point, it's hard to think of someone who more routinely runs afoul of internet fact-checkers just because he can't keep it real on IG. But rather than continue to mock him directly, people are embracing Bow's deceitful style with a new hashtag: #BowWowChallenge. Just stage a photo that misleads the viewer to assume you've made it big, then artfully reveal the con. Alternatively, you can just caption or disguise ordinary stuff as something more expensive.
The #BowWowChallenge speaks to an anxiety that thrives deep in everyone's heart: that one day, the attractive façades we've built online will crumble. Again, we're all guilty of posturing to save face or puff ourselves up a bit.
Maybe, then, we ought to thank Bow Wow — for shining an especially garish light on our culture of excess and entitlement. You'd be hard-pressed to find an American who doesn't want a bigger bank account, more opulent vacations and a picture-perfect body, and that's due in part to celebrities who flaunt these things online. It's nice to pull back the curtain and see that they're striving, just like us. Bow Wow is a martyr for the struggle.