Sarah Michelle Gellar shares powerful message about postpartum depression after new health care bill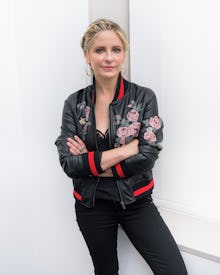 In the wake of the resurrection of the GOP's new health care act that, as is, could roll back protections for pre-existing conditions, several celebrities have come forward to claim their own. Sarah Michelle Gellar, star of the cult classic series Buffy the Vampire Slayer, followed suit with a moving Instagram post about the postpartum depression she experienced after the birth of her daughter, Charlotte Grace:
Having kids is wonderful, and life-changing, and rarely what you're prepared for. I love my children more than anything in the world. But like a lot of women, I too struggled with postpartum depression after my first baby was born. I got help, and made it through, and every day since has been the best gift I could ever have asked for. To those of you going through this, know that you're not alone and that it really does get better.
Gellar went on to ask people to call their representatives if they believe postpartum depression should be covered by health insurance.
While Gellar's message comes at a particularly relevant time, she's far from the only celebrity to speak out about postpartum depression in recent years. Chrissy Teigen, Courteney Cox, Bryce Dallas Howard, Adele, Drew Barrymore and Hayden Panettiere have also been quite vocal about their experiences with it. 
"It's something, I think, that needs to be talked about, and women need to know that they're not alone," Panettiere said on Live With Kelly and Michael in 2015, Entertainment Weekly reported then. "[People] think that it's not real, that it's not true, that it's something that's made up in their minds."
"That's not true," she continued, per EW. "It's something that's completely uncontrollable, and it's really painful and it's really scary, and women need a lot of support."
The significance behind celebrities coming forward with this particular issue is that they're making it clear it's not something any woman should be ashamed of. As long as postpartum depression is candidly and publicly spoken about, it'll be that much harder for the powers that be deciding health care limitations to write it off as a trivial condition.
Thanks to vocal celebrities like Gellar and others, however, potential so-called pre-existing conditions like this will remain in the spotlight.