Will 'Master of None' be renewed for a third season?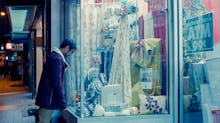 The wait is over. Netflix's Master of None is back for its second season and streaming now. The first season hit the internet in 2015 and became a comedy favorite, winning a 2016 Emmy for outstanding writing for a comedy series. But will the popular show be renewed for a third season? 
The show's star and writer Aziz Ansari says he'll need a long break before he can deliver the follow-up. He further explained his creative process in an interview with Vulture in April.
"I don't know if we're going to do a season three. I wouldn't be surprised if I needed a looonng break before I could come back to it." 
Ansari believes he needs more life experience before he can write the next chapter of Master of None.
"I've got to become a different guy before I write a third season, is my personal thought," he says. "I've got to get married or have a kid or something. I don't have anything else to say about being a young guy being single in New York eating food around town all the time."
So it looks like the answer is: wait and see. In the meantime, check out Mic's review of season two of Master of None here. 
Mic has going coverage of Master of None. Follow our main Master of None hub here.