"Idiot" is the first word that comes to minds when people think of Trump, poll finds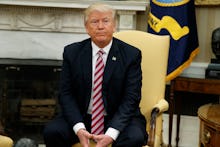 A new poll from Quinnipiac University has some dismal news for President Donald Trump.
Not only is his approval rating at 36%, but a plurality of voters surveyed said the first word that comes to mind when the think of Trump is "idiot."
Quinnipiac asked voters that open-ended question, and only recorded responses given at least five times. Respondents listed "idiot" 39 times. In second place was "incompetent" with 31 votes, and "liar" came in at third with 30 votes. 
More problematic for Trump is that his approval rating plummeted to 36% in the Quinnipiac survey, in part thanks to a loss of support from white voters without college degrees, a demographic key to Trump's victory in November 2016.
The survey found 47% of white voters with no college degree approve of the job Trump is doing, while 46% disapprove. That's a massive drop from a Quinnipiac poll released April 19, which found his job approval at 57% among whites with no college degree.
What's more, Trump's war against the "fake news" media doesn't seem to be having the desired effect, as 57% of voters reporting that they trust the media more than Trump to "tell the truth about important issues."
"There is no way to spin or sugarcoat these sagging numbers," Tim Malloy, assistant director of the Quinnipiac University poll, said in a news release. 
The poll also carried some grim news for congressional Republicans — 54% of voters say they want Democrats to control the House in 2018, as opposed to just 38% who want to see Republicans control the House, pointing to a potential shift in the majority come November 2018.