Betsy DeVos was greeted with a "huge chorus" of boos during her speech at Bethune-Cookman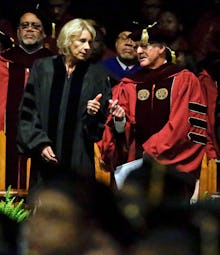 U.S. Secretary of Education Betsy DeVos is not having a good day.
According to CBS News, DeVos encountered a "constant streams of boos and chants" during a commencement address at Bethune-Cookman University in Daytona Beach, Florida.
CNN reported that the "huge chorus" of booing began when DeVos received her honorary doctorate from the institution.
The president of the university, Dr. Edison O. Jackson, threatened to cut the proceedings short if the students kept booing the education secretary. 
According to CNN, Jackson told the student body, "If this behavior continues, your degrees will be mailed to you."
Students tried to lobby leadership before DeVos address
Devos' appearance at the historically black Bethune-Cookman comes on the heels of President Donald Trump's suggestion that federal funding for historically black colleges and universities may not be constitutional, as he considers the program to be included among those "that allocate benefits on the basis of race, ethnicity and gender."
Cheryl Smith, senior vice president of public policy and government affairs at the United Negro College Fund, disagreed with Trump's assessment in a statement to Politico.
Bethune-Cookman students collected more than 50,000 signatures on a petition to stop Betsy DeVos from delivering her address.
DeVos herself has faced personal criticism for claiming HBCUs were "real pioneers" of "school choice," comments she later rescinded.
The Chicago Tribune reported that some leaders were unhappy with Jackson and considered his invitation to DeVos to be "selling out."
Take a look at the awkward commencement address below.