Nintendo Switch Stock: GameStop back at it again with the pricey bundles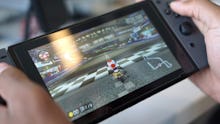 Nintendo Switch stock fluctuates all the time, but you can always expect GameStop to have some sort of supply. The only catch? You'll need to pay more to get it. 
GameStop recently replenished its Nintendo Switch stock, but once again the gaming retailer trapped the device inside of a bundle. That means you'll have to pay more for more items, even if all you want is the Switch. The latest bundle comes with the catchy name: "Gray Digital Deluxe Library." Here's what's inside.
Nintendo Switch Stock: GameStop's latest bundle packs Zelda and more
GameStop's Switch bundle, which can be found here, actually offers up some good games for the money you're spending. Here's what it includes:
GameStop includes the Nintendo Switch with gray Joy-Con, Mario Kart 8 Deluxe, Zelda: Breath of the Wild, the Zelda Expansion Pass, Shovel Knight: Treasure Trove and Has Been Heroes. This is similar to past bundles GameStop provided. Previous bundles have offered similar games like Breath of the Wild and Has Been Heroes at similar prices, as well as Mario Kart 8 Deluxe.
Even so, pushing bundles makes procuring a Switch more expensive for Nintendo fans than if they could just buy the console on its own. Unfortunately, this trend probably won't stop with the release of upcoming games like Splatoon 2 or Arms.
Check out more Nintendo Switch news and coverage
Looking for more Nintendo Switch news? Check out how blind gamers are using the Nintendo Switch and why you can't get your Mii to look quite like you. Nintendo's left Joy-Con issue turns out to be a hardware problem — here's how to solve it. Find out how to buy a console amid the recent restock. Learn why the Switch cartridges taste so bad. Check out our comparison photos sizing up the Switch to the Wii U GamePad (part one and part two), or find out how to make use of ethernet without the dock and the best way to get alerts when new stock arrives.