What episode of 'Master of None' season 2 does Rachel appear in?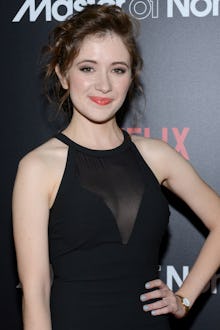 In the first season of Master of None, Dev and Rachel's budding romance came to an end when she decided to follow her heart and go live in Tokyo. As season two of the series returns to Netflix, many fans are wondering if Rachel and Dev will reconnect again. 
Season two's trailer shows no sign of Rachel, but the clip does reveal that Dev is back in the dating game again in New York City. In various scenes, he's hanging with different romantic interests. It seems Ansari decided to keep Rachel's appearance under wraps until the show released Friday.
So, which episode does Dev's ex-girlfriend show up in? Dev and Rachel exchange multiple texts throughout season two, but Rachel doesn't appear on screen until episode 10.
Mic has ongoing Master of None coverage. Please follow our Master of None hub here.