What happened to Dev at the end of 'Master of None' season 1?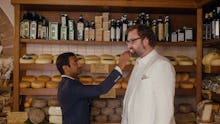 Netflix comedy Master of None's second season premieres Friday, and, based on the preview, Dev will be deep in an Italian adventure. But how did the story of season one get him there? What prompted the sudden move to Italy, and is it a definitive ending to Dev and Rachel's relationship? 
For those who don't remember, or have yet to do a refresher binge of season one, here's where Dev ended up at the end of the last episode, deftly titled "Finale."
The episode starts with Dev, played by Aziz Ansari, searching for the best taco in New York City and ends with the rapid deterioration of his relationship with Rachel, played by Noel Wells. Of course a lot happens in between that sets up the break-up, but these two events represent something much bigger: Dev still has a lot to learn about making decisions, both big and small.
Plus there's also his nagging need to find the very best thing, as is demonstrated by the overly ambitious taco hunt. After Dev and Rachel attend a wedding together, Dev shares his anxieties about a future with her and the two play out their fantasy wedding vows. This time, however, it results in more impactful consequences than having to settle for the second best taco in the city.  
But in the end, Dev seems to be okay with those consequences. In fact, he's finally able to make a major decision in the face of them all on his own — he's going to do an apprenticeship at a pasta school in Italy. Rachel too makes a big decision to go to Japan and follow her teaching dreams, so everyone is taking a positive step forward at the end of the relationship.
There is a moment where you think Dev might be going after Rachel when he's on a plane sitting next to an Asian woman, but then it's made clear he's actually on a plane to Italy. 
"I think it's just a tiny microcosm of one of the themes of the entire show, which is that appearances don't always tell the whole story," co-creator Alan Yang told the Hollywood Reporter. 
That is perhaps the perfect segue into season two. Everything might look exciting and gorgeous in Italy, but, as season one clarified, appearances can be deceiving. 
Check out the trailer for Master of None season two below:
Mic has ongoing Master of None coverage. Check out our main Master of None hub here.