5 takeaways from Snapchat maker Snap's first post-IPO earnings call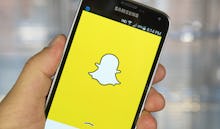 Snapchat maker Snap Inc. announced its quarterly earnings Wednesday — its first such report since going public — and it missed big in several key areas. SNAP's stock price fell more than 20% in after-hours trading on Wednesday, to just one dollar above its IPO price, as investors digested the bad news.
A few of the company's major misses? According to analyst projections, Snap was expected to report a Q1 revenue of $157.98 million, but Snap delivered only $149.65 million. The company was also projected to take a loss of $1.92 per share, but instead lost $2.31 per share.
Snap's daily active user (DAU) count also failed to deliver: Analysts had projected that the company would hit 168 million DAUs, but Snap delivered only 166 million new daily active users, with only three million new users in North America — a key advertising market. 
Long story short, it wasn't a great afternoon for Snap. Though it's worth noting that other social media and internet stocks have also taken a plunge after their first earnings report. 
According to Jim Strugger, derivatives strategist at MKM Partners who spoke to CNBC, "when Facebook, Yelp, Twitter and LinkedIn reported their first quarterly results as public companies, the stocks fell by an average 14.1% the next day." As of Thursday morning around 10:50 a.m. Eastern, Snap's stock price was down nearly 20%. 
Here are five key takeaways from the company's first earnings call:
1. Evan Spiegel gave a solid performance 
Despite some speculation that he wouldn't attend, Snapchat founder Evan Spiegel showed up for the earnings call. He seemed comfortable talking about his product and addressing concerns, albeit after a robotic and rehearsed start. 
While Snap's finance chief Drew Vollero and chief strategy officer Imran Khan addressed most of the analysts' concerns about revenue, Spiegel talked quickly and excitedly about the product and his goal to stay true to the company's mission to provide "creative tools" that allow people to "talk using their camera."
2. Snap downplayed daily active user numbers
Snap is in a tough spot. Investors have come to think of daily active users (DAUs) as the supreme metric of success when it comes to evaluating social networks. 
Snapchat has tried to de-emphasize this figure since before it even went public, but like it or not, it's something that too many people in tech have become reliant on when it comes to evaluating an app's performance.  
Snap was repeatedly asked about its slow DAU growth on Wednesday's call and each time tried to shift the conversation toward measuring engagement. 
"We think of DAUs through the lens of creativity and creation," Spiegel said at one point. 
"There's this thing in our industry called 'growth hacking,' where you get users to do things that are unnatural. You send them push notifications for instance, or auto-subscribe them to all their friends. While that's a quick way to grow users fast, we don't think that's sustainable long-term," Spiegel said. 
Snapchat has one of the highest rates of engagement among social apps, with the average user spending over 30 minutes per day on the app. Instagram, for comparison, averages only 15 minutes per day. 
3. Snap claims it's not worried about Facebook 
Over the past year Facebook has famously ripped off nearly all of Snapchat's signature features, such as stories, lenses, filters and stickers. When Mark Zuckerberg took the stage at Facebook's annual F8 conference last month, he even went so far as to declare that Facebook would be the first "camera first" augmented reality platform. 
Spiegel, however, doesn't seem phased by the threat. When asked on the call whether he was worried or considered Facebook a threat he literally laughed out loud. 
"Just because Yahoo has a search box doesn't mean they're Google," he said. "If you want to be creative company you have to get comfortable with people copying your stuff."
4. Spectacles made Snap $8 million
There has always been speculation on whether Snapchat could successfully move into the hardware business. When the company first announced its mission to become the next great camera company, many wondered whether that meant actually building physical camera products. 
Spectacles (sunglasses with cameras that allow you to post directly to Snapchat) were the company's first foray into that field and the company reported that so far they've generated $8 million in revenue.
Snap Inc. CFO Drew Vollero cautioned that they weren't a huge revenue stream by any means. $8 million is a small piece of the total $149.65 million revenue pie. Though, they did account for the majority of the company's "other" revenue listed in Q1.  
Snapchat recently opened up Spectacles distribution and began taking orders online. When the sunglasses initially launched they could only be bought out of pop up vending machines. 
5. Monetizing users is still a problem
Snap execs can continue to claim that scale doesn't matter and they have one of the most engaged audiences around, but ultimately they still need to deliver value to their shareholders by successfully monetizing their users. 
Several analysts on the call asked Spiegel and other execs why anyone should advertise with Snapchat over say, Facebook, which has a larger suite of ad products and a vast amount more data on each user. 
"We have incremental audience, we have difficult to reach audience, and we have an engaged audience," Vollero said. 
But if Snap doesn't turn those users into cash quickly, it could be a rockier road. 
Snap's average revenue per user (ARPU) fell from fourth quarter from last year and at only $0.90 and is still far below Facebook's $4.23 global ARPU and whopping $17.07 ARPU in North America.