Snapchat Stock: Here's why SNAP's earnings report just sent the share price tumbling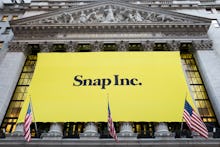 Snapchat may be pretty good at winning over the teens, but its parent company Snap Inc. is having a much harder time winning over Wall Street. One of the major challenges in being a publicly traded company is you have to release quarterly earnings reports four times a year — publishing all your numbers to give investors a clear-eyed view of how the business is doing.
On Wednesday, Snap released its first earnings report, and investors did not like what they saw. In fact, the Snapchat maker's share price quickly fell by more than 20% during after-hours trading, as of 6:00 p.m. Eastern on Wednesday. The reason? Missed revenue, slowing user growth and an earnings-per-share loss so big some financial journalists like Fusion's Felix Salmon said they briefly thought the number was a typo. 
That, in a nutshell, is the double-edged sword of going public: You can make a ton of money bringing in new shareholders, but once you've got them, shareholders tend to be demanding. One major point of concern is that Instagram Stories, arguably a clone of one of Snap's most popular feature, has already overtaken Snap in terms of users, according to a Recode report.
Now, to be fair, one huge cost was in part because of the terms of Snap's IPO: Recode writes that Snap CEO Evan Spiegel was offered bonus stock as an incentive to take the company public. But they note the payout likely can't explain the total loss on its own.
And, as a CNBC reporter pointed out, Snap's operating margin — a measure of revenue left over after costs during a given period — was deeply negative.
As we've often written before, the market tends to overreact to good news and bad news alike, so it's possible SNAP's share price dip won't last. After all, if the company had beaten expectations — even while still losing money — the stock price would probably be shooting through the roof instead of plummeting. 
It's also Snap's first earnings report: By the time Spiegel gets a few more under his belt, it's possible the blowback won't be quite so harsh if his company disappoints again.
But it certainly hurts to have your first earnings report met with a collective "oh, snap!" — and not in the good way.
Sign up for The Payoff — your weekly crash course on how to live your best financial life. Additionally, for all your burning money questions, check out Mic's credit, savings, career, investing and health care hubs for more information — that pays off.