The Senate Intelligence Committee has subpoenaed Michael Flynn on Russia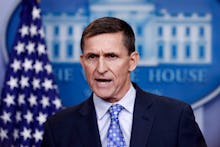 The Senate Select Committee on Intelligence has issued a subpoena to former National Security Adviser Michael Flynn, who resigned amid a storm of controversy after he lied to senior White House officials, including Vice President Mike Pence, about a secret phone call with Russian ambassador Sergey Kislyak.
According to CNN, the subpoena is for documents relevant to Flynn's interactions with Russian officials and was issued after "Flynn's lawyer, Robert Kelner, alerted the panel that he would not provide documents in response to their April 28 request."
In addition to the call with Kislyak, which former acting Attorney General Sally Yates testified could have left Flynn open to Russian blackmail, Flynn's judgment and loyalty have come under doubt after he accepted undisclosed payments from foreign governments, including Russia's.
The subpoenas are a sure sign the Senate investigation is getting serious amid President Donald Trump's decision to terminate FBI Director James Comey on Tuesday. It's a move likely to decimate the FBI's investigation of alleged ties between Trump and Russian intelligence agencies during the 2016 election.
A third investigation in the House of Representatives largely collapsed after its leader, Rep. Devin Nunes (R-Calif.), recused himself after allegations that he compromised the committee's independence from the White House.
The Washington Post reported Senate Intelligence Committee Chairman Richard Burr warned "everything has been voluntary up to this point," but their investigation did not need to rely upon voluntary cooperation in the future.
Alongside Flynn, the committee has requested documents from former Trump foreign policy adviser Carter Page, campaign chief Paul Manafort and longtime friend Roger Stone. It was not "immediately clear" whether those other individuals have complied with the subpoenas, though Page has responded by suggesting they subpoena Barack Obama's former administration instead, CNN reported.
"He didn't turn those documents over, so we have subpoenaed those documents," GOP Sen. James Lankford told Fox News, per CNN. "We do expect them to be delivered to us."