This DOJ official threatened to resign after Trump tried to pin Comey's firing on him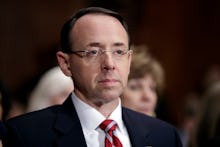 Deputy Attorney General Rod Rosenstein threatened to resign from his job after President Donald Trump cited his recommendation as the reason for firing former FBI Director James Comey, the Washington Post reported Wednesday night.
Trump pinned Comey's firing on a letter Rosenstein wrote, in which Rosenstein chastised the FBI director for his handling of the investigation into Hillary Clinton's use of a private email server. 
According to the White House, Rosenstein approached Trump with concerns about Comey, after which Trump asked Rosenstein to write the letter.
"The president asked they put those concerns and their recommendation in writing, which is the letter that you guys have received," White House spokeswoman Sarah Huckabee Sanders said at a Wednesday press briefing. 
But according to the Washington Post report, the chain of events that led to Comey's dismissal was the other way around: Trump, the report said, had already determined he was going to fire Comey and directed Rosenstein to create a rationale for the decision. 
After the deed was done, Trump cited Rosenstein's letter as the impetus for Comey's firing  — a narrative Rosenstein was apparently uncomfortable with.
Comey's firing has roiled the White House since Tuesday evening. While Trump told reporters Comey was fired because he "wasn't doing a good job," the Post reported that Comey was let go because Trump questioned his loyalty.
The Post added Trump was angry Comey was focused on the Russia investigation, rather than probing leaks to the press.
The notion that an FBI director should never be forced to maintain loyalty to an administration has led Democrats to call for a special prosecutor to lead the Trump-Russia investigation. That decision would fall to Rosenstein.