Miley Cyrus' "Malibu" Lyrics: Every line from her new song about Liam Hemsworth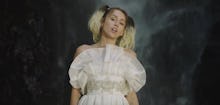 An "evolving" Miley Cyrus returned to music with her new pop-rock single, "Malibu," on Thursday. The song, which she wrote in an Uber, according to her May Billboard cover story, is an ode to her fiancé, Australian actor Liam Hemsworth. "They're going to talk about me if I come out of a restaurant with Liam," she told the music magazine. "So why not put the power back in my relationship and say, 'This is how I feel?'" 
Watch the video for Cyrus' new track below:
In the visual, Cyrus dresses in all white and becomes one with nature, as she frolics by the beach, in front of a waterfall, and lies in a field. With the exception of a brief cameo from Emu, her Shetland sheepdog, Cyrus stars alone in her new video.
The singer is coming off a week of controversy, after comments about distancing herself from hip-hop music. In 2013, her collaboration with hip-hop producer Mike Will Made It and her twerking obsession brought Cyrus to her current level of fame. 
But for the 24-year-old, today marks the beginning of her new sound and stripped-back image that the singer says has nothing to do with what's currently trending in music. "My main concern isn't radio," Cyrus told Billboard. "I truly don't even listen to it."
Below, check out the lyrics about Cyrus' soon-to-be husband on "Malibu," via Genius. 
[Verse 1]
Mic has ongoing Miley Cyrus coverage. Please follow our Miley Cyrus hub here.