As Minnesota measles outbreak rages, anti-vaxxers continue to target Somali community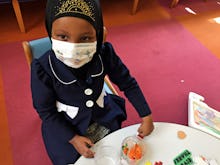 As health department officials work to contain Minnesota's largest measles outbreak in decades, the most heavily affected population is contending with continued targeting from anti-vaccination advocates. 
As of Monday, 51 people have been sickened in the current outbreak, 46 of whom are members of the Somali community. 
As Mic reported in April, the Somali population in Minneapolis and St. Paul has been preyed upon by so-called "anti-vaxxers" spreading misinformation about vaccines and autism — and its an ongoing issue. On April 30, some "vaccine-concerned groups" held an in-person "Community Resource Meeting" that seemed designed to specifically target the Somali-American and Somali immigrant population. 
But as the measles outbreak rages, the latest updates suggest a developing community pushback against misinformation.
The controversial "Community Resource Meeting"
According to a flyer, the April 30 meeting offered "a discussion on Minnesota measles, vaccines, vaccine injury and your exemption rights." It was hosted by three different groups — one of which, the Vaccine Safety Council of Minnesota, states that its goal is "protecting people from injuries and deaths from vaccines."
The meeting was originally scheduled to be held at the Brian Coyle Center, a community center that leases space to groups that serve the local Somali community, including the Confederation of Somali Community in Minnesota. But at the last minute it was relocated to the Safari Restaurant and Event Center, a Somali establishment in Minneapolis. 
Why the change of location? Leadership at Pillsbury United Communities, the organization that oversees the Brian Coyle Center, informed the event's organizers that the Center would not host "an anti-vaccination event," Pillsbury United CEO Chanda Baker said in a phone call on Thursday.
Baker said she heard about the meeting days before it was scheduled to take place when "concerned community members" reached out to her with fears that the meeting could be harmful given the current outbreak.
"I started getting more and more emails," Baker said. 
She reached out to organizers with concerns that the event would be too one-sided, telling them, "If it was only anti-vaccination, we could not move forward with the meeting." 
The organizers relocated.
The meeting was reportedly attended by approximately 90 people, many of whom were parents from within the Somali-American community.
Mark Blaxhill was the main speaker at the April 30 meeting, according to a local CBS affiliate. Blaxhill is an editor at AgeOfAutism.com, a website that promotes the debunked theory that vaccines cause autism. 
Blaxhill told CBS Minnesota that he's not anti-vaccine, but that he is critical of vaccination policies. When reached for comment, Blaxhill directed Mic to a statement about the event from the Vaccine Safety Council of Minnesota on AgeOfAutism.com.
A legacy of vaccine misinformation
Health professionals within and outside the Somali community say that anti-vaxxers have a history of stoking fear within the community by spreading misinformation linking vaccines to autism — a connection that has been disproven again and again.
Disgraced British doctor Andrew Wakefield, author of a since-discredited 1998 paper that implied a link between vaccines and autism, has made at least two visits to speak to the Somali community in Minnesota, according to health officials. 
Wakefield was stripped of his medical license in the U.K. after it was discovered that he had falsified data — but the damage done by his paper is widespread and ongoing.
What comes next?
Kris Ehresmann, infectious disease division director at the Minnesota Health Department, expects the measles outbreak could continue until mid-June. So far, 15 people have been hospitalized.
"I think we'll continue to see cases for a while," Ehresmann said in a phone call Wednesday.
But there's reason to be hopeful. Despite what she called the "aggressive" targeting of the Somali-American community — which records show already has lower vaccination rates than non-Somali neighbors — she's seen health leaders within the Somali community "speaking up and being very clear in providing accurate information about vaccinations."
Vaccination rates are way up — another encouraging sign. Typically health officials record about 30 doses a week of the measles, mumps and rubella vaccine given out to children within the Somali-immigrant community. In the past few weeks, according to Ehresmann, that number has shot up to 500 doses a week.
"I feel optimistic that the community is really engaged with this issue," she said.