'Overwatch' anniversary event and 'Game of the Year Edition' rumors get a big boost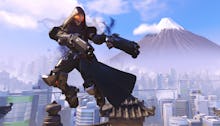 It's looking more and more likely that an Overwatch event centered around the game's one-year anniversary — which is officially May 24 — is just around the corner.
Overwatch YouTuber Hammeh already claimed to have uncovered files pointing to a sixth in-game event through a data mine, but now there's new evidence — some of which comes from Blizzard itself — that an anniversary event is the real deal.
Here's what we know so far.
Overwatch Twitter seemingly confirms anniversary event
The first major piece of new evidence is a tweet from the official Overwatch account, which responded to a fan's question about when the anniversary event will begin. Rather than play coy about the existence of the event, the Overwatch Twitter simply responded, "No timing details yet."
So, it's possible that someone running the Overwatch Twitter accidentally confirmed something they weren't meant to — or, they simply misread the original question and unintentionally responded in a way that has pretty big implications.
Overwatch Xbox store data mine finds anniversary loot boxes and Overwatch Game of the Year Edition
The next piece of evidence comes from True Achievements, a site that scans the Xbox store for new items. Apparently, there are some new Overwatch items that will be available for purchase soon: Anniversary event loot boxes, as well as a new "game of the year" edition of Overwatch.
"Celebrate Overwatch's anniversary with a batch of commemorative treats for your heroes during a new event: Overwatch Anniversary," the text on True Achievements reads. "Kick off the celebration with a bang by picking up Anniversary Loot Boxes."
The text indicates the Anniversary event will end on June 5. Since Overwatch events tend to last several weeks, this event — if it's the real deal — should start in the next week or so.
According to True Achievements, the Overwatch Game of the Year Edition is set to release on May 23. Here's what it will include:
• The full game
If more information about an Overwatch anniversary event becomes available, we'll let you know.
More Overwatch news and updates
For more on Overwatch, check out the rest of what Mic has to offer. Here is an essay about how Efi Oladele was a missed opportunity for Overwatch, a deep dive into the issue of sexual harassment in Overwatch voice chat, an unintentionally hilarious infographic showing the most popular Overwatch characters in each state, a criticism of Blizzard's failures in its design of Symmetra and a dive into a cool trend on Tumblr that converts your most-played heroes into a psychedelic illustration.