The Dakota Access pipeline has already leaked 84 gallons of oil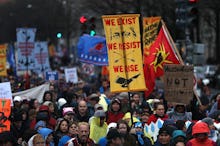 The Dakota Access pipeline has already leaked 84 gallons of oil, mere months after Native American protesters warned about the dangers of such a spill. The leak sprung at a pump station north of Crandon, South Dakota, on April 4, the local Aberdeen News reported Wednesday.
"This spill serves as a reminder that it is not a matter of if a pipeline spills, it's a matter of when a pipeline spills," Dallas Goldtooth, a campaigner with the Indigenous Environmental Network, said in a statement after the news broke.
State officials said the leak was contained and cleaned up quickly, according to the Guardian, and NBC News reported that the runoff stayed within a designated containment area. But the incident serves as a dire reminder of how valid indigenous-led protests have been this past year. 
Between April and December 2016, several thousand indigenous people and their allies converged near Cannon Ball, North Dakota, and set up camp to block construction on the projected 1,172-mile Dakota Access pipeline. The local Standing Rock Sioux tribe was especially concerned about pipes burrowing under Lake Oahe, a section of the Missouri River, from which the tribe draws drinking water.
The Standing Rock Sioux argued that a leak could endanger their water and the local environment. Such incidents are common. Since 1997, there have been 5,679 significant oil pipeline incidents in the United States, a designation that includes large volatile liquid releases — like spills of five barrels or more — unintentional fires or explosions and injuries requiring hospitalization, according to the Pipeline and Hazardous Materials Safety Administration.
More than 630 of these incidents occurred in 2015 and 2016 alone. The April 6 was not large enough to qualify.
"Do we have more spills just waiting to happen?" Joye Braun, a citizen of the Cheyenne River Sioux Tribe, said. "This is our home, our land and our water."
Despite these apparent dangers, President Donald Trump remains a staunch supporter of the project, which is being spearheaded by Energy Transfer Partners, a Dallas-based company to which the president recently had financial ties. After the United States Army Corps of Engineers temporarily halted the pipeline's construction in December, Trump took little time signing an executive order accelerating its completion.
The Dakota Access pipeline is not yet fully operational, but is projected to start transporting oil in the coming months. But its inauspicious beginning goes a long way toward validating the concerns that indigenous advocates have expressed since its construction began.
"[Eyes] of the world are watching and will keep Dakota Access and Energy Transfer Partners accountable," Goldtooth said.