'Injustice 2' Mobile Release Time: iOS launches, but when does the Android app come out?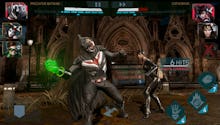 Injustice 2 doesn't come out on consoles until May 16, but if you want an early taste of the D.C. Comics fighting game, you can try out the mobile version for free right now — at least on iOS. The Android release still hasn't arrived yet.
Injustice 2 release time: Available on iOS worldwide, Android version coming soon
The free-to-play superhero fighter is on the iOS App Store right now. It comes with a custom touch-based version of the Injustice fighting engine, most of the same characters as the console game and the first chapter of the console game's story mode. The rest of the story mode will come later on, completely for free. You can read more about what it's actually like to play Injustice 2's mobile port here.
Curiously, while it's available for download on the App Store, it hasn't been released on Android yet. You can only pre-register for the game on the Google Play store at the moment. According to Phone Arena, the Android version of Injustice 2 is coming "soon," but there's no firm release date for it. Seeing as how the console version is out in a week and the iOS version is now available, it's probably just a matter of days before Android users can wallop Superman to their heart's delight. 
More gaming news, updates, tips and tricks
Check out the latest from Mic, including our deep dive into how female Overwatch players are dealing with online harassment, an article about a fan movement advocating for more same-sex romance options in Mass Effect, a personal essay about JonTron written by a fellow Iranian-American and an article looking at cultural diversity in Overwatch.