'Pokémon Go' Russia Trial: Russian blogger found guilty and sentenced to jail time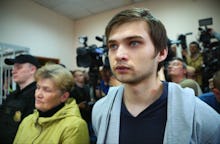 Although he pleaded not guilty to charges of inciting religious hatred, video blogger Ruslan Sokolovsky was found guilty by the Russian courts on May 11. Sokolovsky, 22, was jailed in 2016 after posting a video in which he plays Pokémon Go in the Church of All Saints in Yekaterinburg.
Pokémon Go Russia trial: Russian blogger given half of the maximum allowable sentence
The BBC reported that although Sokolovsky had already apologized to religious believers and admitted that his video was "too cynical for Russian society," the prosecution still requested a sentence of three and a half years of jail time for breaking a Russian law for inciting religious hatred. This law was passed in the aftermath of the punk collective Pussy Riot's 2012 protest against Vladimir Putin at an Orthodox church. 
Additionally, Sokolovsky was found guilty of "illegal trafficking of special technical equipment" when a pen with a built-in camera was found in his home during a search.
Although three and a half years is half of the maximum sentence that can be meted out for violating this law, the Washington Post reported that Sokolovsky was actually given a suspended sentence, meaning he may not serve that jail time. This is in spite of the judge's remarks at the conviction that Sokolovsky had insulted both Christians and Muslims with his "message of hatred."
Sokolovsky had argued his innocence and was shocked at the conviction, but he does dismiss warnings in the Russian media about how playing Pokémon Go could result in jail time. The chapel in Sokolovsky's video, the Church of All Saints, holds special meaning for Russian Orthodox Christians. According to the Post, Russian authorities say it was constructed on the spot where Russia's last czar and his family were murdered.
This is also not the first time the Orthodox church has thrown its weight around in regards to Pokémon Go, either. A Russian television channel actually banned an episode of the Simpsons where Homer plays the game during a church service after the Orthodox Church expressed offense.
At this time, it is not clear whether Sokolovsky will choose to accept the sentence or attempt to appeal the decision.
More gaming news and updates
Check out the latest from Mic, including our deep dive into how female Overwatch players are dealing with online harassment, an article about a fan movement advocating for more same-sex romance options in Mass Effect, a cool making-of video for Legend of Zelda: Breath of the Wild and an article about what a Bechdel test for gaming might look like.