Trump claims he invented the economic term "priming the pump" a couple of days ago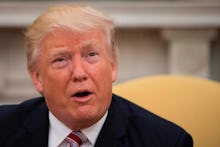 If you feel like you've been hearing the phrase "priming the pump" everywhere lately, Donald Trump knows the reason why. According to the president, he invented the economic jargon "a couple of days ago." 
In an interview with the Economist, Trump said his tax reform plan will "prime the pump," an economic phrase that means the government will add money into the economy to boost growth. 
Trump also claimed to have invented the term. 
"Have you heard that expression used before?" Trump asked. "Because I haven't heard it. I mean, I just ... I came up with it a couple of days ago and I thought it was good. It's what you have to do."
After Trump's insistence that "prime the pump" came from his own noggin, perennial shade-thrower Merriam-Webster — who recently schooled United Airlines on the meaning of "volunteer" — chimed in to correct him. According to the dictionary's Twitter account, the phrase has been around since the 19th century. 
Given Trump's propensity for being on Twitter, there's hope he'll get the memo.