'The Big Sick' Review: Kumail Nanjiani's semi-autobiographical love story is a marvel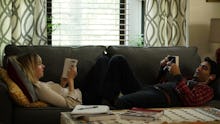 Movie-goers suffering from super-hero fatigue can rejoice: There's a touching new rom-com that's about to hit theaters and offer some relief from the endless parade of sequels, remakes and reboots. The rom-com format might be ailing in the age of big budgets and even bigger box office returns, but The Big Sick — which opens in limited release in the U.S. on June 23 and wider release on July 14 — is proof that smaller films with real feeling can still get made.
Simply put: It's impossible not to be moved by The Big Sick, a Judd Apatow-produced, Michael Showalter-directed comedy based on the real-life romance of comedians Kumail Nanjiani and Emily V. Gordon. The film introduces Kumail (played by — guess who — Nanjiani) as an aspiring stand-up comic and Uber driver in Chicago. One night, during one of his sets, he is endearingly "heckled" by a woman, Emily (Zoe Kazan), and they're immediately drawn to each other. A one-night stand turns into, well, maybe one more date, and just one more after that. Soon enough, they're a legitimate couple. 
But there's some trouble brewing beneath the surface that complicates their long-term future. Kumail's parents, Pakistani immigrants, insist that he must have an arranged marriage with a Pakistani woman — there's a recurring gag in which every time Kumail visits his parents, and a young, single Pakistani woman just happens to drop by. It's funny, yes, but they're dead serious about this issue. Kumail's aspirations to be a comedian, and his failure to pursue a law degree, have already ruffled his parents' feathers, but not marrying a Pakistani woman is just about the worst insult he could subject them to. He doesn't tell them about Emily — and Emily doesn't know she's being kept a secret. 
So Kumail and Emily break things off, with Kumail torn between his family and Emily understandably wanting a full commitment from him. This is where the film's title comes into play. Shortly after their breakup, a mysterious, life-threatening illness sends Emily into a medically induced coma. This brings Emily's parents to Chicago, and presents an awkward dynamic between them and Kumail.
Shifting the focus from Emily to her parents Beth and Terry — played by Holly Hunter and Ray Romano, respectively — makes for a fascinating and novel storytelling wrinkle. Kumail forms a strong bond with them, built on one of the most traumatic experiences of their lives, and yet Kumail is still the ex-boyfriend who left things with Emily on the sourest of notes.  
Despite the heartbreak and health scares, The Big Sick isn't short on laughs, thanks in no small part to the budding bromance between Kumail and Terry. Romano steals plenty of scenes as Terry, presenting Emily's father as well-meaning, but often misguided. Him trying to discuss 9/11 with Kumail is both the most uncomfortable and hilarious exchange in the entire film, brought to life by Romano's ho-hum baritone and stoic demeanor. 
This is a film as much about the relationships between parents and their children as it is about two people falling in love. Even better, nobody is presented as antagonistic. Arranged marriage might be a foreign concept to most people in the United States — including Emily — but it's a staple for Kumail's family, as well as many other Muslim families. Kumail's brother Naveed has an arranged marriage, and a good one: He considers his wife to be his best friend. Plus, with all due respect to Kumail, telling your parents that you're going to pursue your dream as a comedian is a huge red flag regardless of culture. The audience just happens to know it's all going to work out despite the odds — we're aware that we're watching a rom-com starring a stand-up comedian, written by him and his wife, after all.
It's a not a spoiler to say The Big Sick has an uplifting conclusion; again, it's based on a real-life romance. This movie exists to be uplifting, and it succeeds. But most encouraging of all is the sense you get after finishing the film — the sense that the rom-com genre still has some life to it.  
The Big Sick arrives in select theaters June 23. 
Mic has ongoing movies coverage. Follow our main movies hub here.