'Snatched' Review Roundup: Amy Schumer and Goldie Hawn's movie is a mixed bag.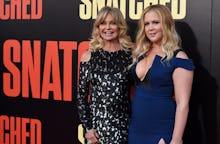 This Friday, Goldie Hawn returns to theaters for her first movie in 15 years. 
In Snatched, Hawn stars alongside Amy Schumer, who is following up the success of her blockbuster 2015 comedy Trainwreck. The film sends the two actresses, playing mother and daughter, respectively, on a wild comedy ride. Unfortunately, the critics are saying it's more mild than wild and that the laughs are sparse. 
Snatched was written by Katie Dippold, who also penned The Heat and Ghostbusters. The movie was helmed by Jonathan Levine, who directed movies like 50/50 and Warm Bodies. 
In the film, Schumer and Hawn go on a vacation after Schumer's character is dumped by her boyfriend. While away, things don't go exactly as planned.
The reviews for Snatched are pouring in and the comedy isn't winning over critics. While critics love the pairing of Hawn and Schumer, the material doesn't do their comedic abilities justice. 
Rafer Guzman, Newsday
It's fairly funny, but something about it feels disappointing.
Michael Phillips, Chicago Tribune 
Funny here and there, but in ways that make the bulk of the formulaic material all the more frustrating.
Ignatiy Vishnevetsky, AV Club
'Snatched' is a movie in the flimsiest sense; in terms of craftsmanship, the best that can be said is that it clears the very low bar set by the typo in the expository opening crawl.
Moira Macdonald, Seattle Times
'Snatched' is one of those movies that feels like a rough draft of itself.
Amy Rowe, New York Daily News
Hawn deserves better, and so do audiences who are likely to find themselves losing interest in the kidnapping movie's runaway plot.
Some critics don't think Snatched is such a wash, noting that it's often quite funny and sweeter than expected:
Heather Schwedel, Slate
While you're waiting for 'Snatched' to appall you, it turns out to be a pretty darn enjoyable movie, one that's winning, sweet at times, and consistently very funny.
Glenn Sumi, NOW Toronto 
The picture, diversely cast and refreshingly frank about sex, body image and relationships (kudos for not dwelling on Linda's husband!) belongs to the two leads, who commit to every gag, muddy stunt and tender confession.
Dann Gire, Chicago Daily Herald
Schumer continues to be an audacious, fearless and un-embarrassable comic lightning rod for intimate female sincerity.
Find out when Snatched hits theaters on Friday, May 12. 
Mic has ongoing movie coverage. Please follow our main movies hub here.