Trump says he may finally release his tax returns — after he leaves office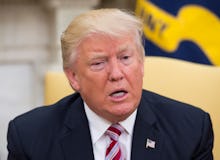 United States President Donald Trump has conceded that he may eventually release his long-sought tax returns — but only after his time in office has ended.
In an interview with the Economist on May 4, Trump, asked if he planned to appease the voters, journalists and Senate Democrats who have clamored for the tax documents to be released, responded, "I doubt it."
"Nobody cares about my tax return except for the reporters," he said. "Oh, at some point I'll release them. Maybe I'll release them after I'm finished because I'm very proud of them actually. I did a good job."
Seeking to clarify, Hope Hicks, Trump's director of strategic communication, then interjects: "Once the audit is over."
"I might release them after I'm out of office," Trump corrected. 
The 2016 presidential campaign saw Trump, then a Republican candidate, break with decades of precedent by repeatedly refusing to make his tax records public. His excuse, at the time, was that an ongoing audit into his personal finances prevented him from releasing the documents, but the IRS has repeatedly clarified that no such rule exists.
In October 2016, tax documents acquired by the New York Times showed that Trump reported a $916 million loss on his 1995 income tax returns — a deduction so large, it could have enabled him to avoid paying federal income taxes for up to 18 years, according to the report.
And in an attempt to debunk Trump's erroneous claim, billionaire Warren Buffett released his own tax returns the same month the Times published its report. Buffett, who was also under audit at the time, said he had "no problem releasing [his] tax information," under the circumstances.
"Neither would Mr. Trump — at least he would have no legal problem," he added.
But Trump repeated the audit excuse in his interview with the Economist.
"By the way, so as you know I'm under routine audit, so they're not going to be done," he said. "But you know, at a certain point, that's something I will consider. But I would never consider it as part of a deal."