Navigating Trump's America: Buckle up. The Russia investigations are not going away.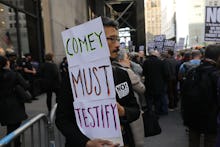 The past 48 hours have brought perhaps the biggest public relations disaster of President Donald Trump's administration. More than Trump's initial health care defeat, or his first travel ban being struck down, firing FBI Director James Comey has delivered a political shock unlike anything else Trump has faced. Moreover, it has united Democrats and key Republicans to pursue deeper, more politically damaging investigations into alleged connections between Trump and Russia. The impact of firing Comey will linger for months, if not years, as investigations into the president and Russia continue.
Numerous leaks and comments to the media suggest Trump's decision to fire Comey was impulsive. And the White House's timeline makes no sense. The administration issued its rundown of the president coming to the decision to fire Comey, but it contradicts the initial claim that Justice Department officials, particularly Deputy Attorney General Rod Rosenstein, were urging Trump to fire Comey. It also states that Trump watched Comey's testimony last Wednesday and that contributed to his decision. In fact, Reuters reported Wednesday that Trump's anger toward Comey reached a boiling point when the FBI director refused to preview his Senate testimony with the president.
The Washington Post reported that Rosenstein was so frustrated that the White House was using him to justify firing Comey, the deputy attorney general threatened to resign. Attorney General Jeff Sessions, who recused himself from matters linked to the Trump-Russia investigation, reportedly met with Rosenstein and Trump on Monday — at the president's request. Curiously, the New York Times reported that Chief Strategist Steve Bannon believed the timing of the firing was poor, while Chief of Staff Reince Priebus was largely supportive.
Was Comey was getting too close for comfort? The FBI director had requested additional support from Rosenstein for the Russia investigation, and had begun receiving daily, instead of weekly, updates about the inquiry.
Trump's disdain for the Russia investigation drove Comey's dismissal. But it will not make the inquiry go away. If anything, the calls for an independent inquiry and resolve to keep digging — from both sides of the aisle — are stronger than ever. Reporters stood at the ready all day Wednesday to swarm senators as they attended to legislative business on Capitol Hill.
The Senate Intelligence Committee invited Comey to testify privately next week. They also subpoenaed Michael Flynn. That subpoena demands documents from Flynn that detail his relationship with Russia. (And apparently, Trump wants to contact Flynn — against the advice of his lawyers.) The Senate committee, which has a bipartisan history, ramped up its relevance on Wednesday. With the FBI's ability to continue its investigation in question, it may fall on a small group of senators and their staff to reach the truth on Trump and Russia. The House investigation long ago became dysfunctional, and other potential Justice Department inquiries will now hold less sway.
Watching today: Acting FBI Director Andrew McCabe will testify in front of the Senate committee. McCabe, who broke FBI protocol by speaking with Priebus in January about the Russia investigation, has been at the FBI for 21 years. He has also been a target of Trump in the past. (Mic)
Sen. Richard Burr may now be the most important man in Washington. The senior North Carolina senator chairs the Intelligence Committee. Mark Warner, a Virginia Democrat, is the committee's ranking member. They have largely been aligned on the Russia investigation. Trivia: It was a North Carolina senator, albeit a Democrat, who led the investigation 43 years ago that eventually brought down President Richard Nixon.
Remember the U.S. attorney that Trump fired? Preet Bharara, former attorney for the southern district of New York, tweeted early Thursday morning: "... does anyone still believe the STATED reason for Comey's firing was the ACTUAL reason? Anyone?"
Whatever you think of Comey, his goodbye letter to the FBI is heartfelt. Read it here.
What were we talking about in the early evening on Tuesday? Health care is likely hitting roadblocks in the Senate. Post-Comey, things are looking even more tenuous. Democrats used Comey's firing as a pretense to cancel a Senate committee hearing on health care. But you likely missed that news given the firestorm surrounding the White House.
This is Mic's daily read on Donald Trump's America. Have you blocked the name James Comey out of your mind yet? 
What I'm watching: 
Today: The fallout from Donald Trump's firing of James Comey continues.
More: The Senate Intelligence Committee is still trying to get to the bottom of the Trump-Russia allegations.
Even more: The deputy attorney general threatened to resign after the White House pinned Comey's firing on him.
Yes, more: A shake-up for the White House press secretary position?
Trump's agenda today: The president has nothing publicly scheduled besides his daily intelligence briefing.
A shake-up for press secretary?
Sarah Huckabee Sanders, principal deputy White House secretary, may soon steal Sean Spicer's spotlight. Sanders has taken over speaking for the president as Spicer takes the week off for reserve duty. Note that the press secretary was last seen late Tuesday night hiding behind a hedge with his staff. (And yes, Sarah is Mike Huckabee's daughter.)
New approval rating numbers
A new Quinnipiac poll gives Trump a 36% approval rating — near his lowest since he took office. The latest Gallup approval rating poll puts Trump at 40%, about where Five Thirty Eight's roundup of polls put the president.
News and insight you cannot miss:
Mic's Andrew Joyce visited a town hall in New Jersey on Wednesday where GOP Rep. Tom MacArthur met with angry constituents. MacArthur was the architect of the House compromise that led to the passage of the American Health Care Act. (Mic)
The West Virginia Supreme Court ruled that anti-LGBTQ assaults are not hate crimes. (Mic)
Education Secretary Betsy DeVos was met with boos and turned backs as she gave the commencement address at Bethune-Cookman in Daytona Beach, Florida. (Mic)
Barack Obama's administration moved away from harsh sentences for people convicted of low-level drug crimes. Sessions' Justice Department wants to bring back tougher punishments, particularly for drug traffickers. Even if it is a first-time or low-level offense, someone with five grams of crack cocaine could be sentenced to five years in prison. (Mic)
Vermont may become the first state to legalize marijuana through the legislative process, not a voter referendum. (USA Today)
Trump will meet with Turkish President Recep Tayyip Erdogan during the latter's visit to Washington next week. Erdogan recently consolidated power through a voter referendum in Turkey and has been critical of the U.S. arming Kurds fighting the Islamic State in Syria. (The Hill)
As the president considers adding more troops to Afghanistan, here's how many Americans are already there. (Mic)