Trump expected to sign an executive order calling for a voter fraud investigation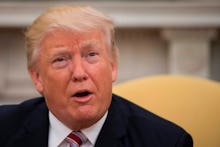 President Donald Trump will sign an executive order on Thursday to create a commission to investigate his claims of voter fraud and voter suppression, ABC News reported.
Vice President Mike Pence and Kansas Secretary of State Kris Kobach will lead the "Presidential Commission on Election Integrity," according to ABC News, which will seek to look into "vulnerabilities" in the country's voting process. 
Trump claimed, with zero evidence, that "millions" of people "voted illegally" in the 2016 election — his excuse for why he lost the popular vote to Hillary Clinton. 
And just days after his inauguration, Trump tweeted about his intention to take steps to investigate.
It's unclear why Trump is launching the investigation now, nearly six months after he made his initial voter fraud claim and more than three months since he said he'd launch the "major investigation." At the moment, his administration is facing a firestorm around his firing of former FBI Director James Comey amidst a high-stakes investigation into the Trump campaign's possible ties to Russia.
Just a handful of cases of voter fraud were uncovered in the 2016 election — two of them were from Republicans, one of whom who voted for Trump.
According to ABC News, the commission will include members from both sides of the aisle, and will issue a report on what it finds regarding alleged voter fraud "sometime in 2018."
It's unclear who else besides Pence and Kobach will be on the commission.
Kobach, however, is a controversial figure. He is a crusader against voter fraud — which experts say is so rare it's almost non-existent in the United States. Kobach was also the creator of the National Security Entry-Exit Registration System, also known as a "Muslim registry" system, in the U.S., which was shut down in 2011 following criticism from civil rights groups.