'The Sims Mobile' Release Date: It might be here sooner than you think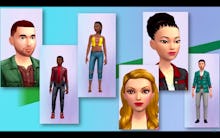 The Sims franchise is coming back on the road with a new title, The Sims Mobile. It's not the first Sims mobile game, but this one seems to be more representative of the PC experience than previous titles.
We still don't have a set release date for The Sims Mobile, but there's a lot of information already out there. Here's what we know so far.
The Sims Mobile release date: Right around the corner?
According to the Verge, the game was just released in Brazil on May 10, 2017. The plan from there is to slowly launch in other regions throughout the coming weeks. Hopefully this means, you'll be able to create your own weird families soon.
More gaming news and updates
Check out the latest from Mic, including our roundup of video games that made fun of their players, a personal essay about dealing with anxiety through Breath of the Wild, a look at the racist and sexist experiences in esports and a plea for better character customization options for black characters.