Tesla Solar Roof Calculator: How much will Elon Musk's "invisible" solar panel cost you?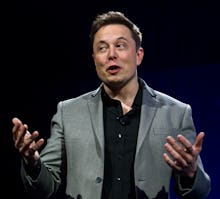 Elon Musk announced on Wednesday that orders were open for Tesla's solar roof panels "for almost any country," deploying in the United States this year and overseas next year. The smooth black glass and textured panels are certainly sexier than an asphalt roof, and better for the environment — but they're not cheaper.
The two styles currently available are priced at approximately $21.85 per square foot — but that is the calculation for a roof made up of 35% solar tiles. Depending on your roof and geographic location, that number is subject to change. Musk said in a conference call on Wednesday that some customers may have up to 70% solar tiles, but that most of them will be at about 40%, Electrek reported.
"The pricing is better than I expected, better than everyone expected," Hugh Bromley, a solar analyst at Bloomberg New Energy Finance, told Bloomberg. He said that Tesla's pricing for the active solar tiles is "significantly below" BNEF's prior estimate.
Tesla released a calculating tool on its website that lets U.S. homeowners figure out the estimated cost as well as the lifetime savings of adopting the company's solar roof and backup batteries.
Senior technology editor at Ars Technica Lee Hutchinson used the tool to estimate the costs for his 2,600 square foot house, which came to $99,100, leading Hutchinson to say that "this isn't something normal humans can afford. Not unless I want to take out a 2nd mortgage just for my roof."
"My property taxes would explode w/ adding another 50% onto the home's appraised value," Hutchinson added.
Musk responded in agreement. "The economics are not yet compelling where housing and utility costs are low and property taxes are high," he said.
While solar roof panels are better for the planet than traditional asphalt roofs, the price point of adoption is still considerably out of reach for many. However, ARK Invest analyst Sam Korus told CNBC that where you live factors into a consumer's decision to invest in them.
"I do think that this is going to be competitive in specific geographic locations, mainly based on costs of electricity," Korus told CNBC. "The fact that they are starting in California makes perfect sense, since you have a lot of sun and high energy costs."
Those more dissuaded by the installation process might find Tesla's solar panels enticing, seeing as the company will handle the removal of your old roof as well as materials and installation, which the company estimates will take about a week.
"When you think of a sustainable energy future, you want roofs to be beautiful and generate energy from the sun," Musk said in the conference call, Electrek reported. "That energy can then charge Powerwalls and electric vehicles. That's the future we want."
And that's the future you'll get! If you can afford it.