'The Flash' Season 3 Theories: Will a major character die trying to defeat Savitar?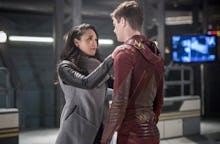 [Editor's Note: Possible major spoilers ahead for the final two episodes of The Flash's third season.]
With just two episodes remaining in The Flash's third season, it will soon become clear whether or not Barry Allen and the rest of his team are able to defeat Savitar unscathed. Savitar has appeared unstoppable since the moment he arrived, but the revelation that he is actually a future version of Barry Allen (well, a temporal duplicate) has made him all the more dangerous — he knows his every move. 
The knowledge that a version of Barry will become Savitar makes the latter's motivations — specifically why he must kill Iris West — all the more clear. It is Iris' death that will send Barry into such a place of darkness that Savitar will eventually be born. And so, Team Flash's quest to save Iris' life, is also the key to stopping Savitar. But even if Iris' life is saved, it is possible that someone else will fall. 
Before Savitar's identity was revealed, the villain delivered an ominous message to Team Flash: "One shall betray you, one shall fall, one will suffer a fate far worse than death." It has now become pretty clear who those individuals will be. Caitlin Snow (as Killer Frost) has already betrayed Team Flash; Barry has witnessed Iris' death (or "fall") in the future; and Barry will become Savitar (a fate far worse than death). 
Does there have to be a death?
In many science-fiction stories revolving around time travel, there is this idea that you cannot entirely escape fate. For example, Hank McCoy in X-Men: Days of Future Past says, "There's a theory in quantum physics that time is immutable. It's like a river. You can throw a pebble in and create a ripple, but the current always corrects itself. No matter what you do the river just keeps flowing in the same direction."
Though not nearly as good of a movie, Men in Black III featured a similar quote, with Griffin saying, "Where there is death, there will always be death." In this film, instead of Agent K dying, Agent J's father dies around the same time. If it seems like this is getting a bit off track, there is a point. 
Is it possible that even if Barry and Team Flash save Iris' life, somebody will die in her place? Does there have to be a death at the hands of Savitar? There is precedent for this idea in another Arrowverse series. Something similar happened in Legends of Tomorrow's first season, as Captain Cold perishes in place of Ray Palmer, who was foreseen to die saving his team.
As yet another quick warning, this article is about to enter real spoiler territory. Like serious spoiler, set photo-type territory. Still here? OK, let's continue. 
Who could die?
The idea that somebody is destined to die is bolstered by some set images that leaked a few weeks ago. The photos, which you can view over on Just Jared Jr., certainly seem to indicate that a funeral is on the horizon. And since Iris West is clearly in the images, it would appear that she will not be biting the dust. 
Of course, this is not too surprising, because Iris' death leads to the creation of Savitar, and it is awfully unlikely that The Flash's third season would conclude with Savitar still a looming threat. If Iris is not the one to die, the character that would make the most sense would be Caitlin Snow (now Killer Frost). Not only is she not seen in the photos, but her death could come as an act of redemption, possibly saving her former friends from Savitar. 
There is, though, an issue with this theory: Caitlin Snow is apparently sticking around. The Flash executive producer Andrew Kreisberg said as much during an interview with Entertainment Weekly. "Obviously Danielle Panabaker is not going anywhere," Kreisberg teased. 
"How and if she becomes Caitlin Snow again, or she remains Killer Frost or a version of Killer Frost into season 4, you're going to have to tune in."
So, if Caitlin Snow doesn't die, who will, if anybody at all? That is unclear. From a narrative standpoint, perhaps the most obvious would be Joe (though he can be seen in the set images). Having him die in the place of his daughter would leave the team broken, but Iris and Barry could together heal, preventing the creation of Savitar. Of course, characters like Jessie Quick, or even a version of Harrison Wells, could be the one to go. 
The best way to find out is to just watch. I know I will.
Mic has ongoing coverage of The Flash. Please follow our main The Flash hub here.