Donald Trump denies he's spoken to Roger Stone. Stone said they spoke last week.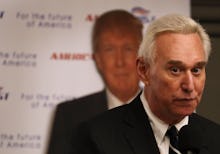 President Donald Trump is insisting that his longtime confidant, Roger Stone, had nothing to do with the decision to oust the head of the FBI.
"The Roger Stone report on @CNN is false — Fake News," Trump tweeted on Wednesday, referring to a story from the network that said Stone advised the president to jettison FBI Director James Comey. "Have not spoken to Roger in a long time — had nothing to do with my decision."
While Stone said he did not play a role in the Comey firing, he did say in a Friday appearance on Sirius XM's The David Webb Show that he still talks to Trump, and had done so in recent days.
"I don't want to characterize it, but less than a week ago," Stone, a stalwart Trump loyalist, said Friday when asked when he'd last chatted with Trump about ongoing investigations into whether Russia attempted to tamper with the outcome of the presidential election.
"[Trump is] easier to find on the weekends," Stone said. "He's got more time on his hands. But I'm happy to say after I was on with George Stephanopoulos, he called. After I was on with Chuck Todd, he called. After the Netflix documentary trailer was released, he called."
"He was certainly pleased with those appearances, because of course, I was happy to defend Donald Trump."
Stone, who is under FBI scrutiny and has been pushing to testify to Congress about his role, or lack thereof, in attempts by Russia to influence the election, sent out some celebratory tweets about Comey's firing.
But in a statement posted on Facebook Thursday, the political strategist insisted he "never claimed I convinced the President to fire FBI Director Comey."
"I have written, posted and spoken in favor of the firing of Mr. Comey," the veteran political strategist wrote. "It would be impossible for the White House not to know my views."