Jeremy Lin said he experienced more racism while at Harvard than in the NBA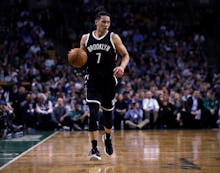 Jeremy Lin, one of the more notable names in basketball, said that while he does receive racial taunts from NBA spectators, nothing compares to the racism he experienced while playing for Harvard University. 
The Brooklyn Nets point guard appeared on an episode of Outside Shot with Randy Foye released Wednesday and said racial slurs were hurled at him from fans, rival players and an opposing coach while playing basketball for Harvard from 2006 to 2010. 
Lin revealed several occurrences of racial abuse, including an incident during a game at Yale where fans heckled him with Asian stereotypes and joked about his eyes. "We would go to other places, like I was at Yale," Lin said. "[Fans] were like, 'Hey! Can you even see the scoreboard with those eyes?'"
Another incident Lin recounted was during a game at Georgetown University, where a fan sitting court side kept glaring at him and repeatedly shouted "chicken fried rice," "beef lo mein" and "beef and broccoli" for the entire game.
There was also an incident when a coach started hurling racial epithets about Lin to the referee during a game at the University of Vermont. Lin had his hands up when a Vermont basketball player was shooting free throws, and their coach shouted to the ref, "You can't let that Oriental do that!" Lin also said referees would often overlook the racial slurs shouted at the court. 
The racial taunts became so bad for Lin it started affecting his performance on the court. Lin said he received charges and acted out of line during a game at Cornell University after people — he didn't specify if they were players or fans — were taunting and hurling racial slurs at him. A teammate defended Lin to his coach and said he was called a "chink" repeatedly throughout the first half of the game. 
"I didn't say anything, because when that stuff happens, I kind of just, I go and bottle up, where I go into turtle mode and don't say anything and just internalize everything," Lin said. 
Lin said when he found himself in the media spotlight, he was overwhelmed with the prejudice he faced from reporters. Lin, the first American-born NBA basketball player of Chinese and Taiwanese descent, said every question he received from reporters had to do with his Asian identity. "It became a huge burden, because I felt like I had to be this phenomenon for everybody else."
But now, the 28-year-old basketball player feels differently when speaking about his Asian background. Lin said he treats it like a badge of honor and hopes to use it to promote some positive change:
This is cool: I rep for all the Asians, I rep for all the Harvard dudes, I rep for the Cali guys, I rep for the underdogs. I take pride in it. It is not a burden to me anymore. I am not scared anymore. I appreciate it and want to help and challenge the world, stereotypes and everything. Back then, I didn't understand it; and it came so fast, I didn't really know what was going on.