Xbox Project Scorpio vs. PS4 Pro: Game developer says Sony has "huge advantage" over Microsoft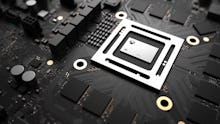 When the exact specs for Project Scorpio were revealed in April, they confirmed what we already knew: The beefed up version of the Xbox One is indeed more powerful than the PS4 Pro. However, raw numbers don't necessarily indicate success. One game developer thinks Project Scorpio is actually at a disadvantage.
Xbox Project Scorpio vs. PS4 Pro: Kona community manager weighs in
GamingBolt sat down with Jean-François Fiset, a community manager at Parabole. Parabole released the first-person exploration/survival game Kona on Xbox One, PS4 and PC back in March. The headline-grabbing quote from the interview concerns the competition between Sony and Microsoft in the powered-up console market:
The way I see it is that even though the PS4 Pro is less powerful than the Scorpio, Sony still has a huge advantage. They released their upgraded version of the PS4 approximately a year before the Scorpio. It means that they had a lot of time to earn more clients who in the end, just want to play a game on a console that answer their immediate needs.
Fiset actually has a point. Obviously, the PS4 Pro has a whole year head start over Scorpio, which is expected to launch this fall. That means it has an extra year to get in the minds of consumers despite its relative lack of horsepower. That approach was beneficial to the Xbox 360, which outsold the PlayStation 3 with an extra year on the market despite falling short in the power department. 
Of course, the Wii wiped the floor with both of them — whereas its successor, the Wii U, died young early despite getting a year head start on the PS4 and Xbox One. If Scorpio launches with a compelling lineup of games that really show off its technical capabilities, the PS4 Pro's extra year won't matter. Only time will tell. 
More gaming news and updates
Check out the latest from Mic, including our of video games that made fun of their players, a personal essay about dealing with anxiety through Breath of the Wild, a look at the racist and sexist experiences in esports and a plea for better character customization options for black characters.