Acting FBI director says White House is wrong, Comey had "broad support" within the FBI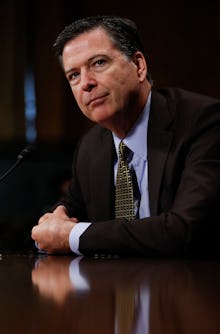 White House spokeswoman Sarah Huckabee Sanders said on Wednesday that part of the reason former FBI Director James Comey was fired was that "the rank and file of the FBI had lost confidence in their director."
It's a statement that was completely contradicted on Thursday by acting director Andrew McCabe during a hearing before the Senate Intelligence Committee.
Comey, McCabe said, "enjoyed broad support within the FBI, and still does to this day."
It's just the latest contradiction in the White House's account for Comey's dismissal.
Sanders also claimed that deputy attorney general Rod Rosenstein and Attorney General Jeff Sessions came to President Donald Trump to express their concern with Comey, and that Trump then asked Rosenstein to "put those concerns and ... recommendation in writing."
However, a Washington Post story revealed a different order of events: Trump, reportedly looking to fire the FBI director, summoned Rosenstein to the White House to ask him to come up with justification for such an action.