'RuPaul's Drag Race' Episode 8 Recap: Which queen went home on the RuPaul Roast?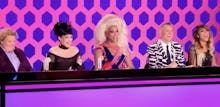 In the world of drag, reading is one of the most universal art forms. Unlike throwing shade, which is indirect and cleverly disguised, reading is all about telling a girl to her face exactly what you think of her. It's often playful, sometimes hostile and above all else, always the tea.
RuPaul's Drag Race is reverent of this art, and thus since season two has hosted a "Reading Is Fundamental" mini-challenge every season. The challenge is simple: Assess your competitors in the most delightfully brutal way possible. Whoever delivers the best quips wins. Victors in this challenge include some of the all-time fan favorites, like season two's Jujubee, season four's Latrice Royale and season five's Alaska.
This season's reading challenge is no different, as the quiet-but-deadly Valentina takes the crown for some deliciously scalding burns. But it's the queen who reacts badly to the challenge — Alexis Michelle — who reveals the most about herself this episode, and in the process unintentionally casts herself as this season's villain.
Like in season five, this season's reading challenge comes paired with the RuPaul Roast. It's essentially a magnified version of "Reading Is Fundamental," with one of the judges as the primary target of criticism. This time around, it's head judge Michelle Visage under the spotlight, and the queens mostly acquit themselves well. It's not the best challenge of the season, but it's solid.
Peppermint comes out on top for her best performance all season, earning her first win. Previously, the New York queen has struggled to deliver at showtime, but here, she's self-assured and smart. One joke in particular — "Not since Destiny's Child has a Michelle become so famous for riding somebody else's coattails" — sums up Peppermint's performance well: They're expected jokes, but the delivery is what sells them. Her look is also a seasonal best, which seemingly tips the scales in her favor over runner-up Sasha Velour.
Sasha is surprisingly funny, finding a way to mesh her highbrow humor with the lowbrow setting. Her read of guest judge Tamar Braxton — which inspires a drawn-out "biiiiitch" in response — is particularly sharp. It's Sasha's second time this season coming in a close second after Snatch Game; her second win feels like an imminent inevitability. But from where I'm sitting, it's once again Shea Couleé who rules the challenge.
Since season four, when Sharon Needles racked up a ton of challenge wins early, there's seemingly been a concerted effort to spread the wealth of wins among multiple queens to keep the competition close. It's tough to do that when one queen is so clearly superior, though. (Season six practically bent itself into a knot to make Bianca Del Rio not look like the obvious winner.)
Shea's jokes are easily the best, and she knows how to layer her delivery for maximum effect. "Instead of RuPaul, we are going to roast a man of true charisma, uniqueness, nerve and talent," Shea says to start the show. "Unfortunately, he was unavailable, so it's going to be Michelle Visage." She wrings two jokes out of one, and has Michelle hollering. During judging, Michelle makes some half-baked comment about Shea's runway not being her strongest. Considering her great work in the notoriously difficult opening spot, that feels like a quibble. Once again, it seems Shea is cheated out of the win.
Increasingly, this season feels like a runaway win for Shea. She's been in the top thrice, won two challenges more than that and hasn't even hit the bottom three. It's getting harder and harder to ignore her dominance.
While the top is settling into a steady pattern, the bottom is surprisingly tricky. Farrah Moan has to lip sync after an absolute disaster of a comedy set — saying she "bombs" feels like too weak a verb — but she's basically the last of the weaker queens of the season. Joining her in the bottom is previously strong performer Alexis. The Broadway queen wins the lip sync, sending Farrah home, but Alexis comes off looking far worse in this episode.
There's a fine line between being shady and being mean, and the number of jokes about Alexis' size during the "Reading Is Fundamental" challenge definitely toes it. But instead of being funny in response, taking the knocks in stride and reading the other girls even harder, Alexis gets petulant. She whines that the other girls know about her struggle with body image, even complaining to RuPaul and judge Ross Matthews when they come into the workroom. Ru is, unsurprisingly, unsympathetic.
"You feel like it's OK for you to make fun of someone else, but not for someone else to make fun of you," Ru tells her. It's not a question, it's a read, and Ross practically gay-gasps in glee. It's hard not to gasp along with him — Ru is notorious for loving a sob story, and her rejecting this one so hard throws Alexis for a loop. She comes off as bitter more than anything.
This is a classic case of Alexis giving the editors a little too much rope to work with. Phi Phi O'Hara did the same in All Stars season two, although to more spectacular effect. But you can see the story editing working: During the roast, a costume joke about Michelle's hatred of green doesn't pay off. She responds to Tamar's questioning about it by asking the former Real host if she's ever watched Drag Race. (Tamar, of course, was a guest judge in season seven.) 
If Alexis were a favorite, the editors could have worked around the moment, or not shown it at all. Instead, we get shady reaction shots from Tamar and Sasha, and the judging moves on. There's no doubt Alexis has some off-putting attributes — just see the way she blames the other girls for her bad outfit in the fifth episode of Untucked — but this is part and parcel of reality competition TV. Her less flattering side is getting exaggerated.
Alexis saves herself in the lip sync, with a remarkably expressive performance of Dolly Parton's "Baby I'm Burning." If she can grow a thicker skin and turn out strong performances for the rest of the season, she may not be season nine's villain for long. But for now, with Farrah out, she's resting at the bottom of an impressive pile of queens.
Seven girls remain in the fight for the season nine crown. The next queen falls Friday, May 19, at 8 p.m. Eastern on VH1.
Mic has ongoing RuPaul's Drag Race coverage. Follow our RuPaul's Drag Race main hub.