This is why Patrick Swayze thought Jennifer Grey was perfect for 'Dirty Dancing'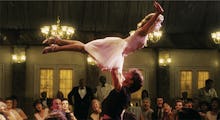 Patrick Swayze and Jennifer Grey's chemistry in Dirty Dancing is one of the reasons the film is so beloved. 
Swayze and Grey, of course, starred in the original film in the iconic roles of Johnny and Baby, respectively, and they didn't exactly have the time of their lives filming the 1987 classic. 
In an interview with the American Film Institute, the late Swayze shared how much he loved working with Grey. For him, Grey made such a perfect Baby because she was just such a natural. 
"Jennifer Grey, if you've watched her career at all, she's an incredibly available actress," he declared. 
Swayze revealed that any actor goes into a character doing as much homework as they can. From understanding their character's subtext and subtleties to finding out who they are, actors have to do the work and then throw it all out the window once the camera starts rolling. "Jennifer Grey is truly gifted at that," he said. 
The dance scenes in the movie feel authentic because the actors were genuinely frustrated with each other. What they used in the movie was Swayze and Grey attempting to work together and nail the choreography. Ultimately, it worked.
"They just took pieces of Patrick and Jennifer working together, attempting to be a dance team and my frustration," Swayze admitted. "My real frustration. I'm trying to keep this girl serious, trying to keep her from crying, trying to keep her focused."
Working together was a lesson for both of them. While Swayze had danced prior to the film, Grey had not. "It really was a teaching situation. I really had been a dancer my entire life. Jennifer had a great deal of natural talent but needed to be nourished," Swayze said. 
"I think Jennifer at that time, and still, is one of the most gifted actresses around in terms of her ability to be present in the moment right now and I think that's what made Baby and her character really, really special," he said. 
Mic has ongoing movie coverage. Please follow our main movie hub here.