Here's what Trump's been up to since firing FBI Director James Comey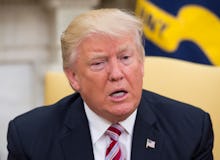 While the nation has been fixated on President Donald Trump's stunning firing of FBI Director James Comey, Trump has managed to keep himself busy, even as he continues to defend himself against the onslaught of criticism he's received in the wake of the controversial move.
Read on for an overview of the president's hectic schedule and confusing activities since the FBI director was dismissed.
Trump met with Russian Foreign Minister Sergey Lavrov
Less than one day after firing Comey, Trump met with Russian Foreign Minister Sergey Lavrov.
Mic cannot report what happened during their conversation because Trump closed the media out of the meeting, but according to CNN, Trump says the meeting was "very, very good."
After images of the meeting, like the one seen above, appeared in a Russian state news agency, the New York Times reported that the White House explained, "Our official photographer and their official photographer were present — that's it."
Trump continues to deny the role of Russian meddling and hacking in the U.S. election that served to aide his presidential campaign, despite what CNN describes as "an overwhelming consensus by U.S. law enforcement and intelligence agencies."
Plans to meet with Turkish president after defying him
Trump is scheduled to meet with Turkish President Recep Tayyip Erdogan on Tuesday after deciding to arm Syrian Kurds against ISIS in the region.
According to the Hill, Erdogan considers the Kurdish element of the Syrian Democratic Forces, which Trump is arming, to be a terror group.
Per the Hill, he said of Trump's decision, "We want to believe that our allies would prefer [to] be side by side with ourselves rather than with the terror groups."
Trump also received criticism for his congratulatory call to Erdogan on the passage of a referendum that many believed to undermine Turkey's democratic style of government by expanding presidential powers.
"Election integrity" executive order
Trump on Thursday signed an executive order that creates a commission for studying voter fraud and voter suppression.
The president has repeatedly claimed that Secretary Hillary Clinton, who received almost 3 million more votes than Trump in the presidential election, benefited from fraudulent votes.
Trump also claims to have won the popular vote when alleged fraudulent votes are removed, an assertion he made without evidence. Critics have maligned Trump's order as addressing a voter fraud problem that does not exist.
Search for a new FBI Director
The president needs to nominate a new FBI director. One Republican senator has an idea. Sen. Mike Lee of Utah tweeted that Trump should nominate President Barack Obama's Supreme Court nominee Merrick Garland.
 Sen. Amy Klobuchar of Minnesota cosigned on the proposed nominee.
While Lee's tweet was perceived to be "facetious," he told Fox News on Thursday,
"As you point out this is someone who has a lot of bonafides as a prosecutor, he's a prosecutor's prosecutor, and he's someone who's got likely allies as a potential FBI director nominee in both political parties."
Several other names are also being floated to replace James Comey.
Tax returns after Trump leaves office
Trump now said he'll get around to releasing those tax returns. The catch: Trump doesn't plan on allowing anyone to see them until he exits the White House.
In an interview with the Economist, Trump said, "Oh, at some point I'll release them. Maybe I'll release them after I'm finished because I'm very proud of them actually. I did a good job."
Trump is the only president in the last 40 years to not release his tax returns. With the exception of Gerald Ford, he's also the only major party candidate note to release them in that same time period.