Trump said he was going to fire Comey "regardless" of what top DOJ officials said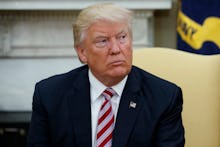 President Donald Trump opened up about the firing of former FBI Director James Comey in an interview Thursday with NBC Nightly News' Lester Holt, in which he said he had been planning to fire Comey for some time, and that he had planned to go ahead with Comey's dismissal with or without approval from his top Justice Department officials.
"What I did is, I was going to fire Comey," Trump said, noting that despite meeting with Deputy Attorney General Rod Rosenstein on Monday, he was "going to fire regardless of recommendation."
That story partly contradicts the account the White House gave Wednesday afternoon for why Comey was let go.
On Wednesday, White House spokesperson Sarah Huckabee Sanders said Rosenstein had come to the White House to express "concerns" with Comey. Trump then asked Rosenstein to put his concerns and recommendation "in writing," which then led Trump to fire Comey.
But, as he told Holt, Trump had already made up his mind — and appeared to use Rosenstein's letter to justify his decision.
This is just the latest in a series of contradictions to the White House's story surrounding Comey's dismissal.
That includes Sanders' assertion on Wednesday that "the rank and file of the FBI had lost confidence in their director." 
Acting FBI Director Andrew McCabe shot Sanders' statement down, telling the Senate Intelligence Committee on Thursday that Comey "enjoyed broad support within the FBI, and still does to this day."
Trump, for his part, attacked Comey's leadership in the interview, calling Comey a "showboat" and a "grandstander."
"The FBI has been in turmoil, you know that, I know that, everybody knows that," Trump said in the interview. "You take a look at the FBI a year ago, it was in virtual turmoil, less than a year ago. It hasn't recovered from that."
Trump's full interview with Holt will air Thursday night on NBC Nightly News.