Critics are tearing into Donald Trump's new "election integrity" task force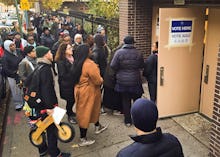 President Donald Trump's new advisory commission on election integrity is getting bad reviews before it even gets to work. 
Good government groups and public officials across the country are slamming the panel, formed through an executive order, as a bizarre and nefarious attempt to root out pervasive voter fraud that has not been proven to exist.
"In order to promote fair and honest federal elections," Trump's order tasks the panel with studying practices that "enhance the American people's confidence in the integrity of the voting processes" or which "undermine the American people's confidence" in the same.
The 15-member panel is also charged with pinpointing vulnerabilities "that could lead to improper voter registrations and improper voting, including fraudulent voter registrations and fraudulent voting."
The panel will be headed by Vice President Mike Pence and Kansas Secretary of State Kris Kobach. Kobach is a noted crusader against voter fraud, which Trump claimed, without giving proof, resulted in "millions" of people casting illegal ballots in the 2016 presidential election he won.
In calling the panel "absurd," the Brennan Center for Justice at New York University School of Law pointed to its recent study of voting activity in areas with high non-citizen populations: 
Of the 23.5 million votes tabulated in the areas surveyed, election officials referred an estimated 30 incidents of suspected noncitizen voting for further prosecution or investigation, representing 0.0001% of the votes cast.
In a sharply worded statement, Vermont Sen. Bernie Sanders said that given the lack of pervasive voter fraud, "the sole purpose of this commission is to propagate a myth and to give encouragement to Republican governors and state legislators to increase voter suppression."
Groups, including the American Civil Liberties Union, called the commission rollout an unadorned attempt to distract the country from Trump's firing of FBI Director James Come amid questions about Russian meddling in the U.S. presidential election.
Dale Ho, director of the ACLU's Voting Rights Project, called the commission "a sham." 
The ACLU also said Thursday that it had filed a Freedom of Information Act request "seeking information that the Trump administration is using as the basis for its voter fraud claims," which the group termed "fake news" disseminated by the president.
Connecticut Secretary of State Denise Merrill said, "The facts don't lie."
Merrill continued:
Voter fraud is extremely rare. Yet time and again, the specter of voter fraud has served as an excuse to disenfranchise tens of thousands of eligible voters. I hope that this investigation is not a fig leaf for voter suppression and intimidation. 
From the League of Women Voters to Common Cause, the critiques rolled in.
Color of Change, an online racial justice organization, launched a petition to ask Congress to deny funding for the panel, with the group's executive director, Rashad Robinson, calling the initiative "a transparent attempt to manipulate the election process by suppressing black voters and the rising new majority in our country."