For Mother's Day, here are the best quotes and advice from some of the greatest TV moms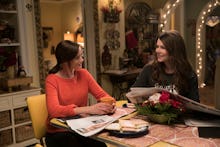 Moms are always there to share words of wisdom and warn you about doing something stupid — and TV moms are no different. Ahead of Mother's Day, we're looking at some of the greatest small-screen moms and some of the best advice they gave their loved ones:
Raising five kids is no easy task, but Lena Adams Foster always seems to know the right thing to say when one of her brood is in trouble. In season one's second outing, she told adopted son Jesus to think about these words before he gets into another fight: 
If you feel yourself getting worked up, just take a deep breath and walk away.
After Rory broke up with Dean in season one of Gilmore Girls, the teen was hell-bent on getting rid of everything that reminded her of her first boyfriend. After Rory packed up a box of those items in episode 17, Lorelai dropped these wise words:
Honey, someday when this is all in the past, you may be sorry that you don't have some of those things anymore.
What's a girl supposed to do when she's accidentally inseminated? That's the problem Jane faced in episode one of Jane the Virgin. Fortunately, her abuela had some insight:
When your mother came home at 16 and told me she was pregnant, I told her to have an abortion. And she said no, thank God. But I carry that shame in my heart every day. Because now, you have become the best part of my life and this will be the best part of your life, too.
When Emma Swan began to panic about being never being reunited with Henry, Mary Margaret offered her some motherly advice in season three, episode two of Once Upon a Time: 
After everything that your father and I have been through, there is one thing we've learned: It is never too late.
In season one, episode five of One Tree Hill, Lucas Scott was considering changing his last name to avoid being linked to his biological father, Dan. While Karen had raised Lucas as a single mother, Dan's brother, Keith, was always there for both of them. She encouraged Lucas to think about that, but ultimately left the decision up to him:
It's just a name, Luke. What you do with it is up to you.
Kristina Braverman of Parenthood
Max has a hard time grasping some news in season five, episode five of Parenthood. While Kristina is sympathetic, she warns her son that things in life won't always be fair:
Sometimes in life, things aren't fair. OK? And as you get older, you have to deal with that. OK? I think that this sucks for you. I think it's awful, but we can't change everything.
Upset about her relationship with Caleb, Hanna wanted to stay home from school in the fifth episode of Pretty Little Liars' third season. Ashley encouraged her to keep her head up:
You don't know what the future might hold. But the future is not going to hold much of anything if you don't get an education. You need to go to school.
Donna confides her fears to her mom after Jackie has a pregnancy scare in season one, episode 17 of That '70s Show. Midge isn't exactly known for her words of wisdom, but she does leave Donna with some food for thought:
Sometimes in the heat of the moment, things happen — and the backseat of a car is no place to be worrying about birth control.
Mic has ongoing TV coverage. Check out our main TV hub here.