20 years later, Missy Elliott shares the inspiration behind her iconic "The Rain" outfit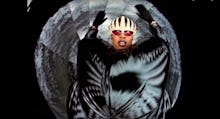 In June 1997, Missy Elliott dropped her first music video, "The Rain." It contained one of Missy's most iconic looks — her puffy black trash bag marshmallow suit — once described by Noisey as perhaps "the boldest fashion statement in music video history." Along with the song's creeping funk, it helped establish Elliott as an MC with her own vision of hip-hop's future, one that would dispense with all of the genre's established rules governing the stlye and conduct of female MCs. 
Nearly 20 years later, the queen is set to appear on the cover of Elle magazine's June 2017 issue, wearing pieces of Marc Jacobs' hip-hop inspired Fall/Winter 2017 collection. In her accompanying interview, she took a minute to look back at the outfit that helped launch her to super stardom.
"To me, the outfit was a way to mask my shyness behind all the chaos of the look," Elliott said. "Although I am shy, I was never afraid to be a provocative woman. The outfit was a symbol of power. "
"The Rain" video dropped during a time when the image of a female MC was dramatically more limited than it was today. Industry executives were hesitant to offer Elliott spots in videos for the songs she helped write because she didn't have "the look." So she created her own.
"I loved the idea of feeling like a hip-hop Michelin woman," Missy told Elle. "I knew I could have on a blow-up suit and still have people talking. It was bold and different. I've always seen myself as an innovator and a creative unlike any other."
That attitude inspired countless artists throughout her two-decade long career. One of those artists is designer Marc Jacobs, who sang Elliott's praises on Instagram back in June when announcing his 2016 collaboration with the star.
"From the moment I heard, 'The Rain,' back in 1997, I was entranced by the genius rhythms and brilliant rhymes of Missy Elliott," he wrote. "Missy's music has kept me and my design team happily energized through countless weekdays, weeknights and weekends during those long hours of sketching, fitting, styling and doing looks."
Of course, Elliott's reign is far from over. She's reportedly hard at work on her seventh studio album, which has spawned two visuals so far, the shocking reminder of her legendary vision "WTF (Where They From)" and the futuristic epic "I'm Better." Revisit the classic "The Rain" video below, while the world waits for more brilliance.
Mic has ongoing music coverage. Follow our main music hub here.