FBI agents change their Facebook profile pictures to Comey after his firing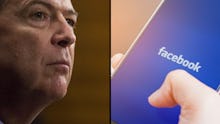 Following the firing of FBI Director James Comey, Democrats issued heated statements to the president, Twitter made Comey puns and FBI agents changed their profile pictures on Facebook.
According to the Daily Beast, "at least a dozen" FBI agents changed their Facebook profile pictures to photos with Comey, or just photos of Comey himself — some permanent and some temporary.
"Everyone feels like there has been a death in the family," a counterterrorism agent told the Daily Beast, with another agent telling the publication that they're "basically sitting shiva." (Sitting shiva is the Jewish practice of formally mourning one's death immediately following the funeral.)
President Donald Trump fired Comey on Tuesday as the FBI director and his team were investigating whether the president and his administration were colluding with the Russian government.
"The President's sudden and brazen firing of the FBI director raises the ghosts of some of the worst Executive Branch abuses," House Democratic Leader Nancy Pelosi said in a statement, CNN reported. "We cannot stand by and watch a coverup of the possible collusion with a hostile foreign power to undermine American democracy."
The news came not only as a shock to the public, but to Comey himself. While talking to his employees in Los Angeles, he saw the news that he had been fired on TV, CNBC reported; he thought it was a prank.