'PES 2017' Mobile Release Date: 'Pro Evolution Soccer' comes to Android and iOS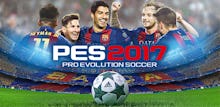 On Thursday, Konami Digital Entertainment announced the upcoming release of Pro Evolution Soccer 2017 (PES 2017) on iOS and Android Devices.
PES 2017 is one of the most highly regarded console soccer simulations in history, and Konami hopes the mobile game will be received the same way. The same game engine that powered the original PES console series is used in the mobile version, so long time fans should be somewhat familiar with the way the game plays.
Also, the same licenses owned and utilized in the console versions will be available on mobile as well.
The mobile game will feature season-long campaigns, online and local matches and squad building. Top players like Lionel Messi, Neymar, Luis Suarez and others will be available.
Perhaps the most appealing detail is that PES 2017 mobile will be available for free to fans. 
There's a pre-registration campaign that offers deluxe in-game items.
For a limited time only, users can acquire a super rare, minimum silver status special agent for FC Barcelona, Borussia Dortmund and/or Liverpool FC.
Pre-registration for both platforms can be done at the links below:
iOS* //  https://www.konami.com/wepes/mobile/pre/
Android //  https://play.google.com/store/apps/details?id=jp.konami.pesam
*For iOS, pre-registration is available only for users in the UK, US and Japan
More sports gaming news and updates
Love sports games? Check out more content from Mic, including tips for leveling up your NBA 2K17 MyPlayer, playing quarterback in Madden 17, our review of MLB The Show 17 and the classic Nintendo sports games we want to see on the Switch.