How to make a fidget spinner — out of an iPhone 7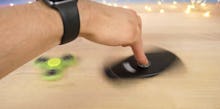 Following in the footsteps of slap bracelets, Tamagotchi and Silly Bandz, fidget spinners are the latest teen craze to sweep the nation. 
The small toys, which you twirl between your fingers and are theoretically meant to help people with ADHD improve concentration and focus, have become so popular that they've become banned at many schools. 
It was only a matter of time before the trend peaked and slipped into self parody. YouTuber EverythingApplePro was happy to serve as the straw that broke the trend's back by transforming his own set of iPhones into fidget spinners.  
In order to complete the task, the tech aficionado drilled through the phones and inserted a circular gear and ball bearing into an iPhone 4S, 5S, and iPhone 7. 
"This is maybe a $250 anxiety spinner," he commented after drilling through his iPhone 5S. "I just got anxiety just doing this and looking at it." 
We don't recommend you try this at home, though as Mashable notes, if you do, remove the iPhone battery first. Drilling through a lithium-ion battery could easily cause it to explode, which could end up causing anxiety.