Federal judge delays travel ban ruling, states she's "inclined to agree" it's unlawful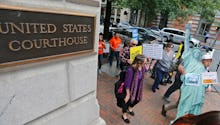 President Donald Trump's February threat of "SEE YOU IN COURT," responding to challenges to his travel ban, has yet to work out in his favor. 
Thursday, U.S. District Judge Tanya Chutkan declined a request to block Trump's revised travel ban, arguing that two other judges in Maryland and Hawaii have already stopped the executive order from going into effect. 
It's best to wait until the appeals of those cases are resolved, she argued, but she is "inclined to agree" Trump's effort to temporarily bar new visas is unlawful, according to the Associated Press.
Pressure to block the ban in Washington, D.C., has been coming from organizations such as Iranian American Bar Association and the National Iranian American Council. Their lawsuit claims Trump's ban was driven by anti-Muslim sentiment, and that it has had a harmful effect on students, business travelers and families. 
Chutkan is the first judge to allow witnesses to testify about the effects of the travel ban. Her court has heard from Iranian-American and Muslim groups that Iranians have faced delays and disruptions in securing visas despite the ban's block. She is prepared, according to the AP, to issue a ruling "without delay" if orders from courts in Maryland and Hawaii are overturned.
A federal appeals court heard arguments in the Maryland case Monday, with the judges appearing skeptical about the merits of the appeal. Much of the discussion focused on whether Trump had distanced himself from his campaign promise that his ban would explicitly target Muslims.
"He's never repudiated what he said about the Muslim ban," Judge Robert B. King said according to CNN, which would uphold Maryland court's objection that the executive order is, at its core, a discriminatory policy. A San Fransisco court will judge the Hawaii ruling next week.